From Bubble Tea to Ramen: 3 Must-Try Eats in YYC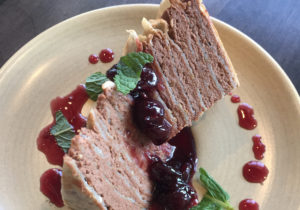 Medica trifle topped with vodka-macerated berries from Burwood Distillery
From Bubble Tea to Ramen, these are our choices for the must-try eats in YYC.
CALGARY TO TOKYO IN SECONDS
The Japanese capital boats some of the best cuisine in the world, and trendy Tokyo Street Market is committed to bringing that atmosphere and flavour home to Calgary. With a menu of "fresh-fast food" like ramen, yakitori and takoyaki, it's designed for those looking to grab a quick lunch, or throw back some beer or sake after work. The space is also family friendly.
SIP LOCAL CRAFT SPIRITS IN STYLE
There's a little jewel tucked away in northeast Calgary where you can sit at the bar and sample small-batch spirits while watching the distillery at work in the next room. Burwood Distillery lovingly crafts gin, vodka, honey eau de vie and medica (an incredible eastern European honey liqueur) and is now offering a menu that perfectly complements their hand-crafted beverages. Pair the vodka with their house pickles and gin-cured salmon, or try the honey eau de vie with charbroiled octopus and prawns, and polish it off with medica trifle topped with vodka-macerated berries. Don't forget to take a bottle home — Burwood's spirits are also available in local shops and Alberta-wide at Co-op Wine & Spirits and Sobeys Liquor.
A NEW TEA TIME FAVOURITE
If you need more bubble tea in your life, Presotea has you covered. Located on 17th Avenue, this new tea time hangout is exclusive to Calgary as the only location in Alberta. The Taiwanese chain uses espresso machine technology to press each cup of tea, maximizing the flavour. Choose from an array of milk tea and fruit slush before customizing your drink by choosing the temperature, sweetness, and toppings such as panda pearls or basil seeds. There are tons of options that allow you to find your perfect combo, though you may need to conduct a few experiments.