Making Treaty 7 is Reclaiming History One Performance at a Time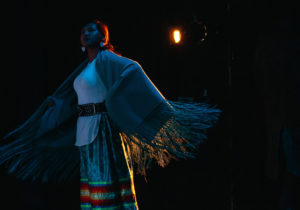 As a child, Justin Manyfingers watched his grandparents make berry soup. When I met him, he had just attempted his first batch. "There's a certain technique used to boil [the berries]", says Manyfingers, which can be Saskatoon berries or whatever is local to the maker. "Usually you make it in a ceremony."
The ceremony at hand is Manyfingers' own  - one to induct him as the new artistic director for Making Treaty 7 Cultural Society, a role he fills at a time of change, expansion and inspiration for the organization. Launched in 2012 by founders Michael Green and Narcisse Blood, the society seeks to tell the history of what happened during the signing of Treaty 7 at Blackfoot Crossing in 1877, and how the impacts of this event manifest today through performance art.
Remembering how to make berry soup ten years after watching his grandparents make it is a testament to the Blackfoot oral tradition; a cornerstone of the culture that is also central to Making Treaty 7's operations. Understanding that the history of the signing of Treaty 7 had not been told from an Indigenous perspective, and that much of this history was not written down, Green and Blood developed a unique storytelling methodology centered around oral historical storytelling.
"Most productions begin with a script, and then actors and directors go from that script - that's not how we work," says Ollie Siska, managing director at Making Treaty 7 Cultural Society. "We put experts, elders and the artists together in a residency and it's basically a conversation that goes on for days where stories are told and [where] traditional oral history that's not recorded anywhere is talked about."
Manyfingers was a part of this process for Making Treaty 7's first show, which premiered in 2013. Now, he has co-written and directed of a new version of that original production, KAAHSINNONIKS 'Our Ancestors', which will be performed at the Jubilee Auditorium on October 3 and 4.
"The goal with this production is that we are still able to give as much information but through more of an artistic lens, where the works in the past had been very presentational," says Manyfingers. He also notes that the production has been narrowed down to 65 minutes from 12 hours of raw material. "There's still probably at least 500 years of stories that you could turn into theatre from that [first] show."
The second production scheduled for this fall, KIIKTISTINNONIKS 'Our Mothers', tells the history of the women's role in the signing of Treaty 7, and how that is linked to present day crisis of missing and murdered Indigenous women. The fully female led and created show aims to depict how women have always been the backbone of Blackfoot culture, contrary to colonial portrayals.
"The professors and the researchers and the people who wrote the books about us, they didn't want to hear the women's stories, they wanted to hear the men - the chief, the warrior, the savage, you know, with the western masculinity," says Manyfingers. "This [production] looks at First Nations, Metis and Inuit women, but it gets more focused into Calgary - it gets more focused into Treaty 7. Even though it is a national voice, it gives so much context to where we live in and what we live in."
Manyfingers notes that Making Treaty 7 productions and the methodology used to create them has already started to inspire other Treaty nations to tell their own stories through performance art. The shows also have proved to fill a gap in public school curriculum. "When we're at the jubilee we do matinees for schools only - we basically invite all the CBE schools and all the nation's schools, so we'll have 5000 kids coming," explains Siska. "They fill up every time because there's such a lack of education. Teachers absolutely love this for discussion purposes - it's a really important aspect to breach the youth."
As far as Making Treaty 7's productions' role in the Truth and Reconciliation movement, Manyfingers says that they embody every aspect of it. "It's not even really about getting along, it's just about understanding each other. I don't really care if you don't get along but at least have respect. Without respect you don't have relations and that is what we're putting into everything, or trying to push for."