Grammy-Nominated Trio I'm With Her Set to Play First Show in Calgary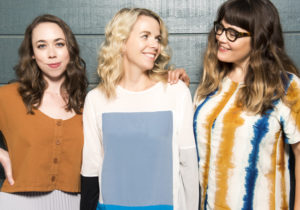 From left to right: band members Sarah Jarosz, Aoife O'Donovan and Sara Watkins. Courtesy I'm With Her/Concord Music Group
With their soothing harmonies, heartfelt lyrics and dynamic performance style, the all-female group I'm With Her is an exercise in defying genre.
The trio that makes up the band – singer-songwriters Sara Watkins, Sarah Jarosz and Aoife O'Donovan – have their roots in folk music, and also evoke touches of country, jazz and bluegrass. Described by the New York Times as having a tone "that could be sweetly ethereal… or as hearty as mountain gospel," the 2018 Grammy nominees for best group are taking the stage for the first time together in Calgary after a series of shows in Western Canada.
Each band member has garnered critical acclaim and collected Grammys in both individual and group pursuits. In 2002, Watkins sang on the collaboration This Side, which was later awarded best contemporary folk album. O'Donovan was a part of the Grammy-winning 2013 album The Goat Rodeo Sessions, which featured talents like Stuart Duncan, Edgar Meyer and Yo-Yo Ma. Just last year, Jarosz's Undercurrent collected the title of best folk album.
Although they've known each other for over a decade, this is the first time they've formally toured together. O'Donovan has played in Calgary before, at the Calgary Folk Music Festival. She notes how I'm With Her have a particular affinity for festivals – they all met at one, and decided to form their band at one.
"I think there's a great sense of community that we all kind of grew up with and had at festivals," she says.
While the band name may conjure thoughts of the language used in the current #MeToo movement, O'Donovan said it predates that.
"It's a nod to the camaraderie we feel as a trio and as a band… it was an all-for-one, one-for-all type of mentality," she says. "We all really respect each other, and there's a great deal of admiration and confidence in each other that I think is really special and really rare, and that's what I'm With Her means to us."
The trio's latest album See You Around has been well received critically, and O'Donovan says the live shows have given them a chance to exercise different muscles when it comes to how they perform the tracks.
"The songs on See You Around have evolved this year and it's been really fun to play them live night after night and sort of keep on finding new ways to express ourselves," she says.
But the thing that has remained constant is the special relationship they're able to establish with the audience. "I think one of the things that makes acoustic and folk music so appealing to an audience is the intimacy," O'Donovan explains. "I just saw Paul Simon a couple of days ago (with band mate Sarah Jarosz) at Madison Square Garden, and at its core it felt like a folk concert. He's up there with a 16-piece band, but we felt like we were just at a folk club, listening to what it felt like for people who saw Paul Simon back in the '60s."
Though O'Donovan says the band has a wide range of influences, she names Simon and Joni Mitchell as two of her biggest. When it comes to the future of I'm With Her, she says the main goal is simple: to continue to create together, write music, and keep performing with the same passion and excitement.
I'm With Her will be on stage at the Jack Singer concert hall on October 2 at 7:30 pm.