Denise Donlon on What Calgarians Can Do for Gender Equality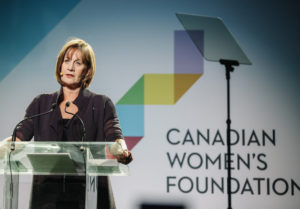 Photo by Ping Hu
For entertainment industry executive Denise Donlon, success isn't about how much power you have – it's about how you wield it. To Donlon, pushing for diversity, equality, and inclusion, and being mindful of the need to "pull our sisters up with us" is what we all must do to advance women's rights and ensure everyone has equal opportunity to succeed.
Donlon was the keynote speaker at this year's Conversations to Inspire Change breakfast with the Canadian Women's Foundation at Calgary's Hyatt Regency. From enforcing greater media literacy at MuchMusic to being the first female president of Sony Music Canada, Donlon weathered isolation and tough decisions with a quote from famed feminist Gloria Steinem in mind: "Feel the fear. Then do it anyway." And she left the audience in Calgary with a mantra of her own: "Decency is genderless, and we are not powerless." Donlon talked to Where Calgary about how everyone can do their part in the fight for equality.
How can Calgarians get involved and help push feminism forward?
If you're looking for your own empowerment, sometimes it's having the conversation and pointing out to people that you're talking to, or that you want to make a change with, 'That makes me uncomfortable', or, 'This would be better if there were more women involved', or 'Why can't I have a chance at that opportunity?' People like to help at the end of the day, but often times we're so focused on ourselves that we're so oblivious to what's going on around us, so you really need to put yourself forward that way.
You mentioned that young girls now are often told they can do and be anything, but then face challenges when they get into the workplace. Can you talk more about what that looks like?
We've been in a parenting mode, at least here in North America, where we have been endeavouring to empower our daughters by saying, 'You can do anything'. And sometimes they can't – sometimes it's 'Maybe perhaps not a singer, perhaps dentistry', or whatever it might be. So it's a real balance between confidence building and wanting to be frank with people about what's going on in the world. And when you start to go into more corporate workplaces or something and those (gender parity) numbers do start to become more evident, you will start to bump into some walls. So I think the conversation with our daughters is really to make sure that they're open-eyed about it and they know what to expect, and to ask for help if they need it.
What would you say to women who want to speak up and be involved, but might not have the confidence?
Well it's hard to build confidence. I've never been the 'fake it till you make it' type of girl, I'm more of the '99 per cent experience and 1 per cent inspiration'. You know, we always think our failures are bigger to us than they actually are… perspective is really important. So for women, when you get out of your comfort zone and you surround yourself with a myriad of experiences, open yourself up to possibilities, and say 'yes' to a lot of opportunities, then you start to build that confidence. We are better than we think we are – we really are.
What would you tell your younger self?
I would just say, don't sweat the small stuff. It's hard because when you're growing and learning, you don't know what the small stuff is – you think everything's big stuff. But as my mom used to always say to me, 'This too will pass, my dear'. She always uses that Winston Churchill quote, 'When you're going through hell, just keep going."