Calgary Chef Dishes about Competing on New Netflix Show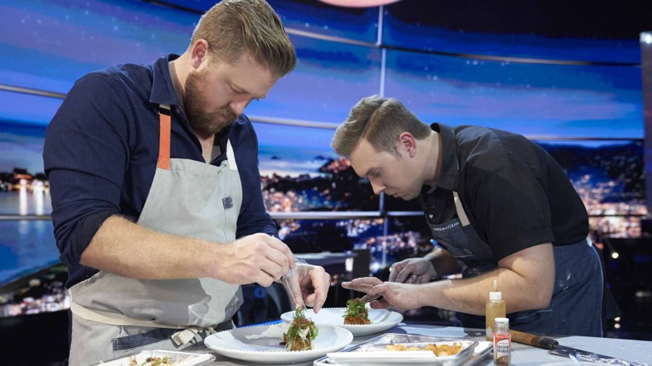 Calgary Chef Darren MacLean (right) competes on new Netflix cooking competition The Final Table. Photo courtesy Parker PR
Calgary's own Chef Darren MacLean, owner of Shokunin, is one of 24 chefs who was chosen to participate in Netflix's first cooking competition — The Final Table.
Described as a global cooking competition, chefs from all over the world aim to impress top culinary experts by whipping up cuisine from nine different countries. The Final Table features 12 teams of two chefs cooking the national dishes of nine different countries, including Mexico, Spain, England, Brazil, France, Japan, the U.S., India and Italy. Celebrities, food critics and a notable chef from each country eliminate teams until the finale.
MacLean opened Shokunin in 2016 in Calgary's Mission neighbourhood, and it quickly garnered acclaim, making the top 50 list of Canada's 100 Best Restaurants two years in a row.
The Alberta born-and-raised chef says he first fell in love with Japanese cooking after trying the food at Zen 8 sushi restaurant, a Cowboys-owned restaurant. He was slinging drinks at Cowboys nightclub to pay his way through university and was impressed by the simplicity and freshness of the food at Zen 8. After travelling around the world and taking a culinary tour through Japan, he decided to bring "a taste of the world to Calgary" with Shokunin, offering a contemporary Japanese dining experience.
The menu fuses traditional Japanese cooking methods and flavour profiles with seasonal Canadian ingredients to provide palate-pleasing dishes, which are all inspected by the chef himself before they get to your table. Alberta bison tataki and eggplant and goat cheese tempura are just two examples of this culinary combination.
You can choose from a variety of small plates, including vegetables, meat, fish, skewers and more, along with an impressive selection of sake by the glass. If you want to pair beer with your food, there's an ale brewed with rice and sake kasu (leftovers from sake-making) on the drinks menu, a collaboration between Ol' Beautiful Brewing and Shokunin.
MacLean was the only Canadian chef selected to compete on The Final Table. He sat down with Where Calgary to tell us about his experience on the show, which is available for streaming on November 20.
What can you tell us about the show?
I can tell you that The Final Table was probably one of the greatest single best experiences I've ever had in my whole career. The Final Table is unlike any culinary show that you've experienced.
What is the format?
There's a bunch of chefs competing against each other, cooking cuisines from around the world. It's not just American-centric or North American or French. So not only is it multicultural and inclusive, it's a real reflection of the industry because it's all about the food.
How does it differ from other cooking shows?
It's not like other cooking shows that are personality driven, where they try to get you to argue with competitors — they put people together in situations because the drama is what they think people want to see. Netflix doesn't have to worry about that. They have subscribers. So when you see it, they're like, 'You need to make a taco. You have 60 minutes.' It's all about the food. They give you the best pantry I've ever seen. I wish I could have their pantry. Every day you're cooking with some of the best chefs in the world. You're being judged by the best chefs in the world.
What was it like working with the other chefs?
We all became friends. We have a chat group. We all still talk online — it was amazing. And I've since cooked with seven of the chefs, and we still want to collaborate. Every single person on that show deserves to be in the finale. They were all incredible.
You were the only Canadian chef — tell me what that meant to you.
Being the only Canadian chef is a tremendous amount of pressure, but I also saw it as a wonderful opportunity to showcase Canada. It's pretty ironic that a guy from Canada cooks Japanese food, but it's because we're a complete cultural mosaic. So when we faced multicultural challenges, I felt that being Canadian gave me an advantage because I see all these cultures on a daily basis.
Secondly, it's not Toronto, it's not Vancouver, it's not Montreal — I'm sure on the future seasons it will be, but the first season it's a guy from Calgary — that matters to me. I think that shows the caliber of the city. It shows how far we've come as a food city and there are 10 other chefs that could have represented just as well in this city. I really hope that I reflect Canada well, and I hope that I opened up the doors to a new Canadian cuisine, and I hope that it helps put some of the international spotlight on other great Canadian chefs, greater than me. There are amazing chefs in this country, and there's an inclusivity in Canada for ethnic chefs and female chefs that I haven't seen anywhere else in the world. I love it here.
How will this impact your work moving forward?
It actually fortified that I am on the right path, that real Canadian cuisine is engaging with our cultures. Our cultural diversity should be a defining trait of Canadian cuisine. I think that the most exciting thing for the future is I'm very comfortable in my own skin now. I did go really deep into the Japanese food, because I'm so extreme — it's made me realize that I need to get back to my own culinary ambitions and aspirations. So I'm very excited to be an amazing Japanese chef, and I want to make sure that I'm also just an amazing chef, and I think that's important.