Chef Spotlight: Rogelio Herrera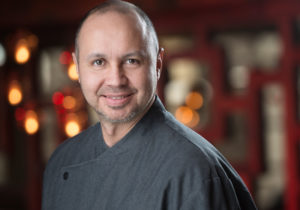 Courtesy of Rafal Wegiel Photography
Rogelio Herrera has a succinct food philosophy: "I think local, but I cook global." It's also the perfect description of the diverse menu at Alloy, the upscale restaurant Herrera co-owns with Uri Heilik. Herrera has been head chef since Alloy opened 11 years ago.
Originally from Colombia, Herrera's mother raised him and his two siblings on her own, so learning to cook was more about being able to help out rather than a romantic pastime. "I don't really have the beautiful story of the grandmother that was making Thanksgiving dinners and stuff like that," Herrera says."I kind of parachuted into the profession."
At 19, he left Colombia and worked in kitchens in places like France and Israel, and then on cruise ships throughout the Mediterranean. This exposure to different cuisines, along with his upbringing, are what continue to inspire Alloy's fusion-style menu, which has lobster fettuccine next to Latin-inspired fare like duck arepas or wild prawn ceviche.
"I'm a curious person by nature, so I'm always trying to do something innovative," Herrera says. "I like to experiment a lot… and working with my cooks on a daily basis, they also teach me a lot."
In terms of his own personal favourite dish, Herrera jokes that, "All of the things on the menu are like my kids — I don't pick one over the other." He says that while he enjoys trying new things, there are some dishes — namely the truffle gnocchi and braised short ribs — that are here to stay. "Those dishes have been there from the beginning and are untouchable," Herrera says.
Having worked in the food industry in Calgary for over a decade, Herrera's seen firsthand how the city's restaurant scene has evolved. "Calgary has become one of the best cities (for dining) in Canada," he says. "The restaurant community is very close. We collaborate a lot, and we also pull for each other — we want everybody to do well, and that sort of friendly competition pushes us to be better."