3 Must-Have Books from Calgary Writers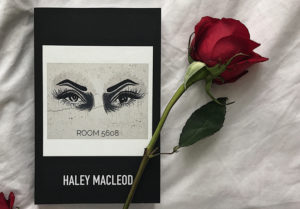 Room 5608. Courtesy Haley MacLeod
Calgary writers are taking the stage with these 3 must have books coming out in 2018!
ROOM 5608 
In February 2016, singer/songwriter Jessie J reposted a poem from Calgary writer Haley MacLeod on Instagram. MacLeod was woken at 2 am thanks to multiple messages from friends asking if she saw the post from one of her favourite singers. The post got more than 28,000 likes and hundreds of positive comments, which MacLeod says was a confirmation that sharing her poetry with others is her calling. At the time she was well underway in writing her debut poetry book, Room 5608, which she self-published this spring. It's 100 per cent her vision, from the poetry to the formatting and book design. She says the book was a major part of helping her cope with the trauma, grief and depression she went through at a young age.
"I lost my father to addiction and suicide," MacLeod says. "That was a defining moment in my life where I realized I needed to use my voice to shed light on the conversations and feelings most people shy away from."
She says she never had grand dreams of being a poet: "Poetry found me. She gave me a pen and told me, 'Write until the pain brings you back home to yourself.' For five years I wrote everyday, nine hours a day, until Room 5608 came into fruition. I'm sure every Starbucks in this city knows what I drink." The poems follow a free verse and minimalistic style, and touch on heartbreak, grief, mental illness and recovery, with the goal of bringing healing to herself and the people around her. Room 5608 is available at Pages on Kensington, Shelf Life Books on 4th Street SW, select Chapters/Indigo locations and through Amazon.
FOOD ARTISANS OF ALBERTA 
In the summer of 2017, Karen Anderson and Matilde Sanchez-Turri travelled around the province to compile a snapshot of Alberta's diverse culinary scene. The result is Food Artisans of Alberta, a helpful travel guide that shines a spotlight on the province's locally crafted fare. The book includes profiles of the Alberta's food artisans — farmers, ranchers, brewers, cheesemakers and more — along with recommended farmers' markets and watering holes to visit. In the Calgary section, you'll read about some of the people behind Charcut, River Café, Rouge and others who elevate Alberta's food scene and reputation. Find it at Shelf Life Books, Pages, Owl's Nest in Britannia Plaza, and Chapters/Indigo locations around the city.
THE FIGGS 
Independent publisher Freehand Books is celebrating its 10th anniversary in 2018, and The Figgs marks their 50th book! In this funny and endearing story written by Calgary-based author Ali Bryan, the Figg family navigates rebellious teens, unexpected pregnancy, aging, adoption and more with humour, wit and (occasional) grace. The memorable characters and non-stop shenanigans keep the pages turning. Pick up a copy at Shelf Life Books, Owl's Nest Books, and Chapters/Indigo locations in Calgary.