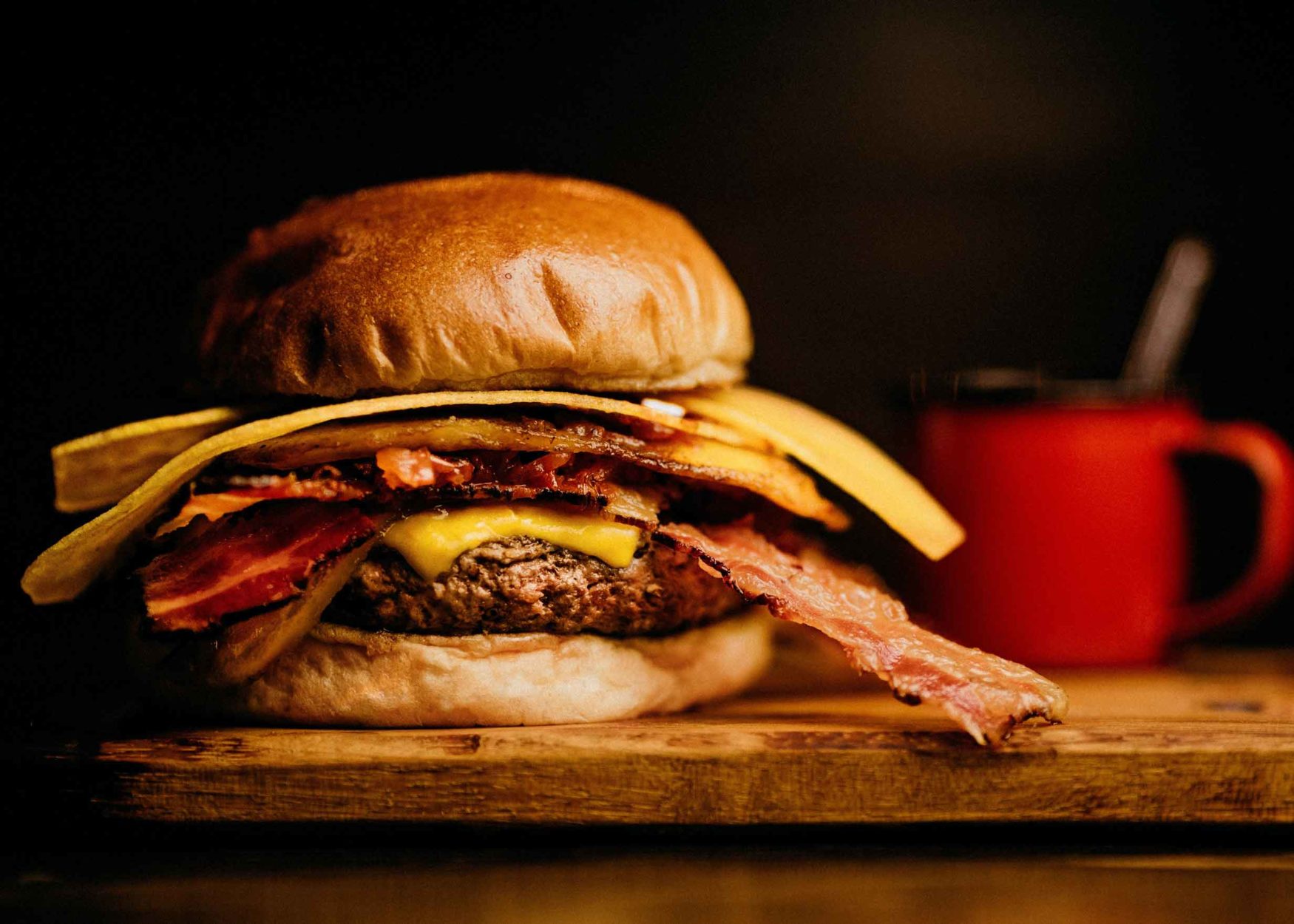 There is no mistaking that Calgarians love their burgers and whether you prefer beef, plant based or even sans patty, there's no shortage of creative chefs ready and willing to stack 'em high.
A few of the city's most notable burger joints include the saucy Clive Burger with buns slathered in their house-made dressing, Boogie's Burgers whose name continues to live on the city's 'best of' lists, and Lil' Empire Burger who prides themselves on their locally farmed and hand rolled patties.
But for those who prefer the hunt of a secret side door Burger rather than sit inside a brick and mortar, you'll definitely want to try these:
Alley Burgers
One late night back in 2010 as chefs John Jackson & Connie DeSousa were finishing dinner service in their notable and award-winning restaurant CHARCUT in downtown Calgary, they had an idea. On a whim, they decided to load their grill with patties made from a fresh ground mixture of Alberta pork shoulder seasoned with a secret sausage spice blend and discretely share the new burger concoction with their Twitter followers that would be sold from the kitchen's alley door.
Topped with fresh cheese curds and a fried egg sandwiched together between a fresh brioche bun spread with house-made piri piri aioli, the Alley Burger was born. Its fame was immediate, and future offerings could only be secured by the lucky few who would see the tweets in time.
Today the OG Alley Burger lives on and is available 7 days a week (along with a few new offerings) between 11-7 at CHARCUT's sister restaurant CHARBAR - their picturesque location steps from the Bow River in East Village. Look for the small window with attached patio along the west side.
Pigot Burger Club
Prior to the pandemic, Chef Pigot had been kept very busy by appearing on major network shows with Amazon Prime, Cooking Channel and had even appeared on Food Network's Guy's Grocery Games where he walked away the champion of carnival eats!
With travel and the world coming to a halt, Pigot refused to sit an idol and decided to take his love of the simple American Cheeseburger, beef it up and bring it into Canada by starting his own Burger Club.
No secret code, just secret sauces and spices, 'Mercian cheese and brown sugar onions loaded onto a bitter toasted potato roll.
The menu, small but mighty, let's you take control of your patty portions with single, double or triple cheeseburger options, and has your spuds served up crispy as fries or tots.
And for those non-meat-a-tarian's, Chef Pigot has created an Impossible™ pattied cheeseburger, with or without mushrooms, just for you.
Burger Club can be found 7 days a week, noon until late or until they sell out. Order online and head to Craft Beer Market for pick up. Just look for the sandwich board out front which will guide you to the burger promised land.