Calgary's Newest Inner City Urban Parks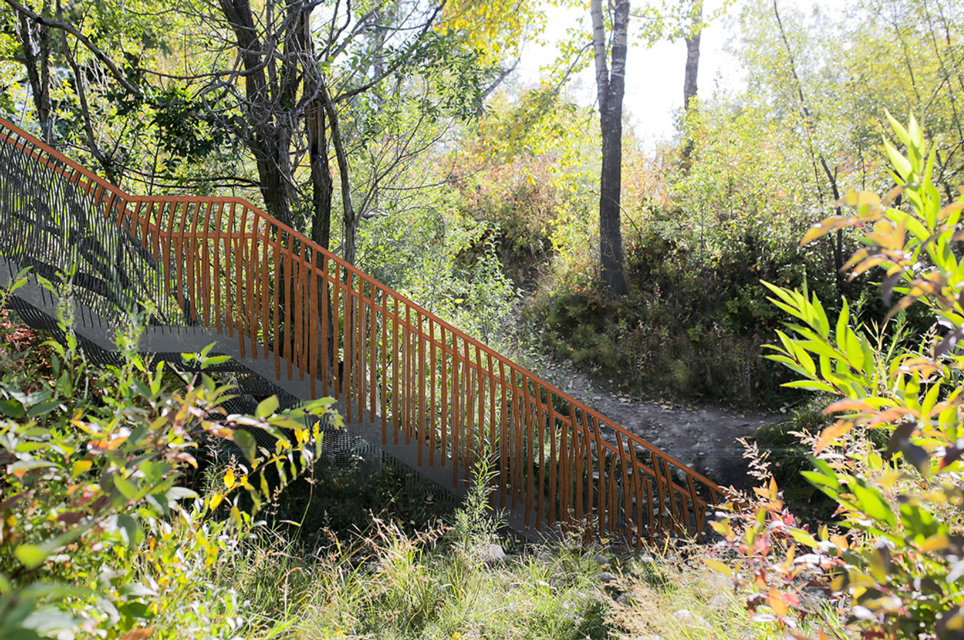 Fish Ladder. Photo courtesy of the City of Calgary
As summer sets in and we all look to escape, relax, and meet up with friends; what you may not know is that Calgary's inner city is home to two new urban parks to explore. Each of the recently opened spots offers unique perspective on the city, thoughtfully incorporates artists' work, and is ready for your arrival.
High Park 
In an effort to address the park and public space shortage in the City Centre, the Beltline Neighbourhoods Association has been collaborating with community partner Calgary Parking Authority and design firm Public City to realize High Park – a 2-acre public park and event space atop an underutilized parkade on 10th Avenue.
Across from popular spots like National on 10th and Craft Beer Market, High Park is a multi-year pilot project to reimagine what park space can be. The Park offers Instagrammable photo-ops, incredible views of the city, and access to open space at a time when its importance has been highlighted. The design team has created a playful, colourful and evolving setting with a series of unique parklets connected by a wide boardwalk. Each parklet can be enjoyed individually or in small groups to play games, have a picnic or just chill out. The Park will be intensifying with its Phase 2 refresh in Summer 2021 with added features and amenities including activity stations and exciting new event opportunities.
The rooftop park – which also features four murals born out of BUMP (Beltline Urban Murals Project) – is open daily from 7am-11pm and can be accessed from street level at 340 10th avenue SW, or via the +15 system through Gulf Canada Square.
Elbow Island Park
In 2013, when Calgary's riverbanks overflowed, Elbow Island Park found itself completely submerged like the lost city of Atlantis. During the city's clean up the staircase to the small inner-city island was removed and the park became an inaccessible plot of land that had soon become forgotten. Years later, with the help of funding from the Alberta government, a team of artists were commissioned to reinvent the islands and its spaces.
The park, which quietly opened in winter 2020 with a new design, has been thoughtfully re-imagined as The Wandering Island "a place balanced precariously between city and nature, land and river, public and private, camouflaged and forgotten."
As you descend the wood and steel staircase located on the 4th street bridge in Mission, you are welcomed with your first look at one of the hidden art installations in the island park titled 'Fish Ladder'. Designed by Caitlind r. c. Brown and Wayne Garrett, the artists created these stairs to reference fish skeletons, the ribs of a canoe and ripples in water and say: "As you move down the stairs onto Elbow Island Park, materials transition from steel to wood, indicating a change from urban to natural. Drooping stairs crest a moiré pattern, rippling under foot. You become the stone, skipping across the water. Over time, foliage will grow up through the stairs, integrating them into the park"
As you explore the island and weave along its tree canopied trails or along its riverbanks, you'll discover a handful of other unique art installs. From a stone walkway acting as the only connection to the back portion of the island, to three unique seating installations which were each designed by artist duos that hold an intimate relationship: a father/daughter team, a long-time friendship, and a romantic partnership. With each of their creations together, the duos were asked to follow one simple notion; create a seating that is your ideal 'together place'. A place to sit, daydream, converse, escape and watch the river flowing by.
Elbow River Park is also home to some rather diverse ecology and plant species not typically found in urban park settings like the High Bush Cranberry and Twinning Honeysuckle where songbirds sing, hummingbirds feast and bats sleep the days away.
The Wandering Island of Elbow River Park is truly a tiny and wonderful place unlike any other inner-city park and offers the perfect place to get away to enjoy a bit of solace.