Chin-Chin to Albertan Gin! There's some new and crafty players in town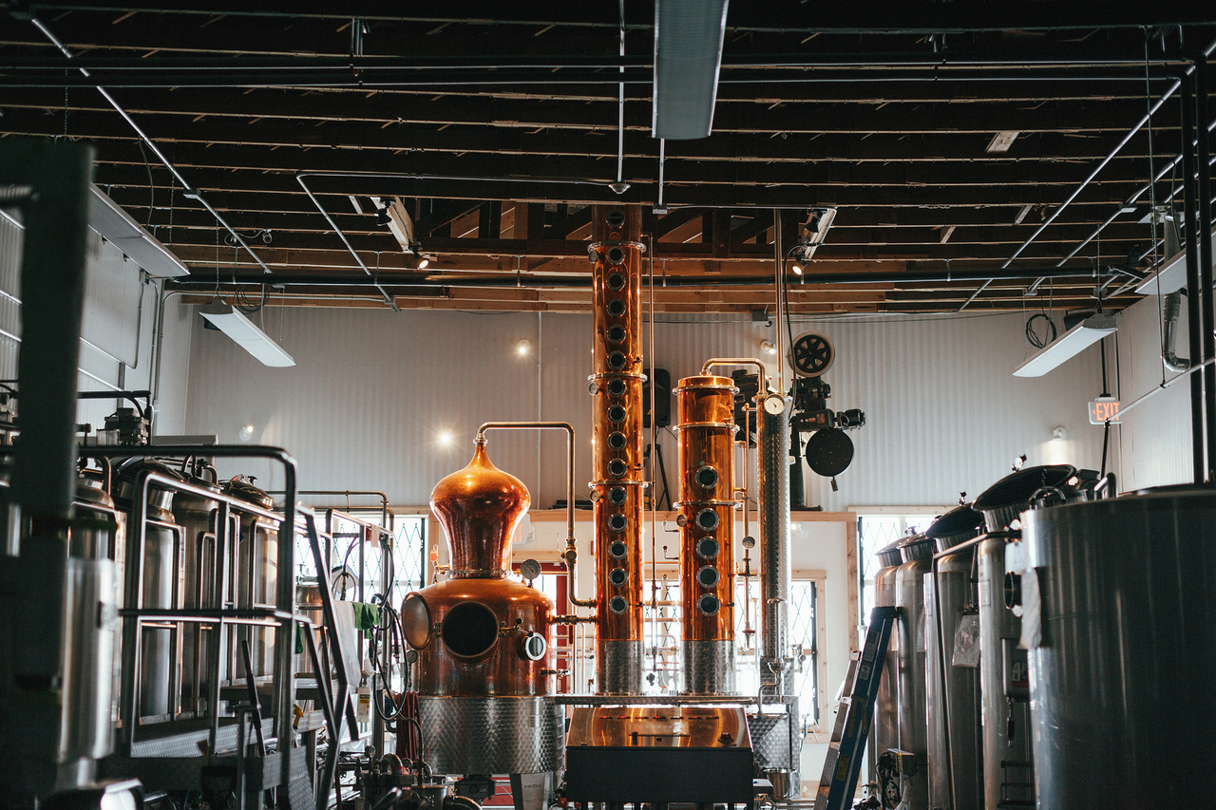 Travel Alberta / Chris Amat @christopheramat
Alberta has become home to several new, refined and distinctive residents who are swiftly making new friends where ever they are introduced, both in Calgary and across the globe. These new players are local gin makers and have been spotted at local events, festivals and markets, or as special guests at private and public functions and festivals.
With agriculture being a large Albertan economic driver, as well as key to a growing number of culinary connoisseurs and entrepreneurs, it's not surprising that the province is now home to several boutique and artisanal gin distilleries. In the Calgary area, there are numerous new and notable gin crafters, both in and around the city limits. Here are three up-and-coming resident gin distilleries establishing a reputation and setting roots in the landscape.
Burwood Distillery
With their initial appearance on Dragon's Den, Burwood Distillery transformed traditional methods of crafting spirits by hand using fresh ingredients from nature. This summer they've unveiled their first batch of seasonal gins, "The Garden Party Series," which includes two very exclusive selections: Triple Berry and Cool Cucumber. According to the co-founder, Ivan Cilic, "We wanted to go with something light and fruity, rich in colour and continue to use local, in-season ingredients …the flavours leave you wanting another sip." Burwood's giving back philosophy has helped the Mealshare program by providing more than 2000 meals to date to minimize youth hunger right here in the province. According to Jennifer Jamison, Chief Sales Officer at Burwood, "With gardening being so popular …our garden party gins have taken off.... We promoted the gins with edible bee pollinating flower seed packs that were custom designed for the Alberta climate."
Favourite Summer Cocktail: Mixed Berry Gin Refresher
1/4 cup fresh strawberries
1/4 cup fresh raspberries
1/4 cup fresh blackberries
(Optional) sprigs rosemary
1 tsp Burwood Honey
2 cups ice cubes
2 oz. Triple Berry Gin
Top with sparkling water
Muddle your fresh fruit in your shaker, and then add your Triple Berry gin. Shake vigorously for 20 seconds, then add in your Burwood honey and shake again. Fill your rocks glass with ice (if preferred) or grab your chilled glass for serving.
Strain shaker glass into your cup, and garnish with fresh fruit and sparkling water (OR top with some prosecco)
Confluence
Another youngin', at the wee age of three, is Confluence, a boutique distillery using only local grains and botanicals. As proud Albertans, the company asserts this is their "gift back" to a really great place to live, so they veered away from the expected flavours and leaned towards more eclectic blends instead. Jamie Hilland, director of Confluence marketing shares, "our Manchester Dry Gin is truly an Albertan creation, using fresh Saskatoon Berries, Wild Rose (the provincial flower) ...balanced with juniper and citrus."
Favourite Summer Cocktail: Wasabi Qtini
1.5 oz Manchester Dry Gin
4 slices of Q-cumber
0.5 oz simple syrup
1 pea-drop wasabi
0.5 oz lemon juice
Combine all ingredients together in a shaker tin with ice and shake vigorously. Garnish with cucumber slice.
Eau Claire Distillery
Many gin enthusiasts will already be familiar with a name spoken in elevated gin spaces, not just in Turner Valley, where this one is crafted, but other continents now also. Eau Claire Distillery was born out of the founder's heartfelt passion for the Alberta land and its spirits, with each small batch tended to carefully with heart, soul and perfection. Gold medal winners of the Canadian Artisan Distiller's Competition for their Parlour Gin, they did a launch at the height of lockdown of a brilliant, bright and botanical creation, Flourish, to inspire the artistic creations of the home bartenders, instilled with sweet florals and fruity aromas of summertime.
Favourite Summer Cocktail: Flourish Gin Bramble
1.75oz Flourish Gin
0.75oz fresh lemon juice
0.5oz Simple Syrup (you can play around with flavoured syrup, such as mint or rosemary)
1 handful of fresh seasonal berries
Combine the ingredients in a shaker and muddle the berries. Add ice, shake. Strain into a rocks glass over crushed ice or cubes. Garnish with more fresh berries and a sprig of mint or other fresh herbs.
With on-site tasting rooms open to the public at the distilleries, these gins can also be sourced online or at your favourite spirit store. Enjoy the favourite summer cocktails recommended by these proud makers of Alberta gins. Chin-chin!