Keep Busy in Calgary this Winter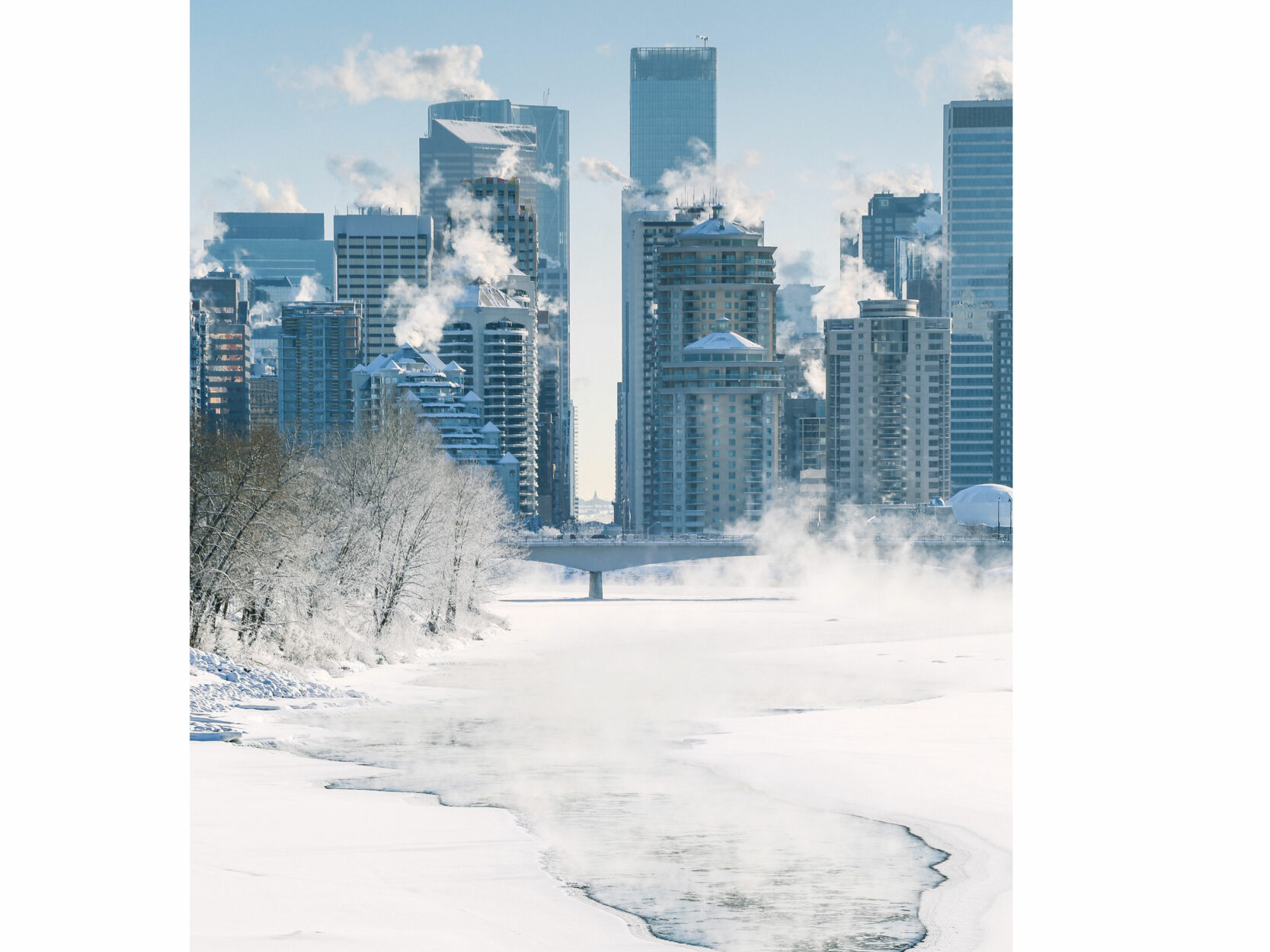 Travel Alberta // Steve Seeley @steveseeley
Calgary is a beautiful city all year long. However, it boasts a certain magic during the winter months. It's unquestionably true that it can be known for its long and harsh winters, but despite having less daylight there are still plenty of bright spots that come along with a Calgary winter. There's never a shortage of snow so winter sports enthusiasts can rejoice at all the options on offer in the city. And for those who prefer to get out of the cold, there are a plethora of indoor activities to take part in this chilly season, too
Action and Adventure
WinSport Canada Olympic Park is known as Calgary's Outdoor Destination with year-round activities. Located just off the Trans-Canada Highway on the west end of the city, more than 1.2 million visitors take in the park every year. The winter season offers a chance to ski or snowboard without leaving the city. The WinSport Tube Park has become a favourite winter pastime for many, or lace up a pair of ice skates and check out the world-class skating and hockey facilities. Lessons are available for all ages and skill levels.
There are a number of ice rinks peppered throughout the City of Calgary during the winter season, from outdoor community rinks to indoor arenas. One of the most popular outdoor ice skating destinations every year is Olympic Plaza in the heart of downtown. There are also two ice trails located in North Glenmore Park and Bowness Park. A map of all city, community, and volunteer-run ice surfaces can be found online from the City of Calgary.
The 2021-2022 National Hockey League season is in full swing with the Calgary Flames hitting home ice at the Scotiabank Saddledome in downtown Calgary several times throughout the winter months - including a New Year's Eve tilt versus the Winnipeg Jets. Get in on the action and be a part of the famous 'C of Red'. You can also catch a Calgary Hitmen game and witness the up-and-coming future NHL stars of the Western Hockey League first-hand.
Hockey may be the initial sport many people associate with the Great White North, but lacrosse was Canada's first official sport, after all. If you've ever been to a professional game, it's easy to see why it is so beloved. It's fast-paced, high-energy, action-packed, and wildly entertaining. Head down to the Dome and take in a Calgary Roughnecks game this season.
2020 saw the popularity of the so-called "ice bike" explode in Calgary. Bowness Park debuted the contraptions for rent and before long they were all over social media. Offering a new and unique way to enjoy the ice rink, ice bikes were a welcome addition that delighted everyone who partook in the activity. They are making a comeback this winter.
For those brave enough, there's also a way to enjoy a more traditional bike ride in the city during the cold months. Fat bikes feature large tires and rims to better grip the snow and they have grown in popularity over the past several years. Take one for a spin on one of many trails in and around Calgary or head west for a more challenging trek in the beautiful Bow Valley.
It's hard to think about winter sports and not have cross-country skiing and snowshoeing come to mind. Luckily, these activities can be done in any of Calgary's many parks. For the best experience, there are dedicated tracks groomed by ski clubs or Calgary Parks. They include South Glenmore Park, Bowness Park, and some city golf courses.
There's no better winter activity than simply grabbing a sled and going for a rip down the neighbourhood toboggan hill. Most communities have several options and there is a long list of city-maintained hills that attract tobogganing enthusiasts every winter including Prairie Winds Park, Confederation Park, McKenzie Towne, and Stanley Park.
Where the Wild Things Are
If you've always wanted to experience the thrill of dashing through the snow in a one-horse open sleigh, there's a way to do that in Calgary. Horsin Around in the city's SW offers Christmas Sleigh Rides during the holiday season. You'll be laughing all the way with this magical Christmas tradition that offers a beautiful view of the Calgary skyline.
Lions and tigers and bears, oh my! You can see all three and more at the Calgary Zoo. The facility located in the heart of the city is open year-round to view and learn about amphibians, birds, mammals, reptiles, and the like. Explore the Canadian Wilds, Africa, and Asia. Visit the Land of the Lemurs and the Penguin Plunge. Get in out of the cold and see some of the most beautiful butterflies at the Conservatory Gardens. Even take a trip back in time to when dinosaurs roamed the earth at the Prehistoric Park.
There's so much to take in at the zoo, including one of the most beloved holiday traditions - ZOOLIGHTS. Celebrating its 25th anniversary, this award-winning light display delights thousands each and every Christmas season. This year will be bigger, brighter, and even more magical than ever.
Learn How the West Was Once at Heritage Park. Take in some old-fashioned Christmas charm with Once Upon a Christmas on weekends throughout December - featuring crackling fire pits, hot chocolate, carolling, and crafts. You can also get some holiday shopping done at the Christmas Market, check out the Gasoline Alley Museum, and delight your tastebuds at Harvey's Confectionery, Railway Café, or The Selkirk.
Artin' Around
Chinook Blast made its debut in February 2021. Illuminated art displays created by local artists lined the streets of downtown Calgary - snaking from Stephen Avenue to Eau Claire (or vice-versa depending on which end you started at). Some exciting and ambitious plans are in the works for the future of Chinook Blast. For the 2022 event, attendees can expect a six-week festival running from January to February featuring the very best that Calgary has to offer in art, music, theatre, as well as sport and recreation.
Hotels Live, dubbed as Canada's first-ever hotel balcony concert series, launched in 2020. It was a huge success, giving music lovers a chance to experience live concerts from the safety of a private hotel room balcony. During the cold months, the shows are held indoors at the Delta Calgary South with room balconies overlooking the Atrium Events Centre. Shows continue to be announced for the winter season, including a New Year's Eve concert featuring the ABBA tribute 'Arrival' and Fleetwood Mac tribute 'Dreams'.
If a more traditional concert is desired, many musicians will be hitting the road once again for long-awaited tours in the coming months. Honeymoon Suite, Burton Cummings, Arkells, Billy Talent, The Offspring, and The Beaches are just some of the artists making stops in Calgary. Venues include the Scotiabank Saddledome, Big Four Roadhouse, Grey Eagle Resort & Casino, MacEwan Hall, Deerfoot Inn & Casino, and Palace Theatre.
For an incredibly unique live music experience, Fever Up offers classical concerts illuminated by candlelight. Hundreds of candles surround a string quartet at Lantern Community Church. Hear popular songs from the Beatles and Queen, jazz and classical legends, and tunes from movie soundtracks. There is also a Candlelight Holiday Special featuring Christmas classics.
Theatre is alive and well in Calgary with several upcoming shows. Theatre Calgary is performing an adaptation of the Charles Dickens classic A Christmas Carol. Vertigo Theatre is presenting Cipher by Ellen Close and Braden Griffiths. Alberta Theatre Projects has In Wonderland by Anna Cummer and Undressed by Louise Casemore on the bill this winter.
In February, Storybook Theatre is performing Disney's Descendants The Musical. Jubilations Dinner Theatre is making it hot with the Summer of '69 dinner show and Junior Series Beauty and the Grinch running through the holiday season, followed by Schipp's Creek in the New Year. Stage West is paying tribute to The Soul of Motown with the story of songwriters Holland-Dozier-Holland.
There is no shortage of things to do in Calgary this winter from sparkling Christmas lights to moonlit ice skating, sporting events, concerts, art displays, and live theatre. If nothing else, visit the Calgary Tower to take in snow-covered panoramic views of this amazing city and the nearby Rocky Mountains from 190 metres above the ground. You won't be disappointed!