V Burger: Burgers but made with plants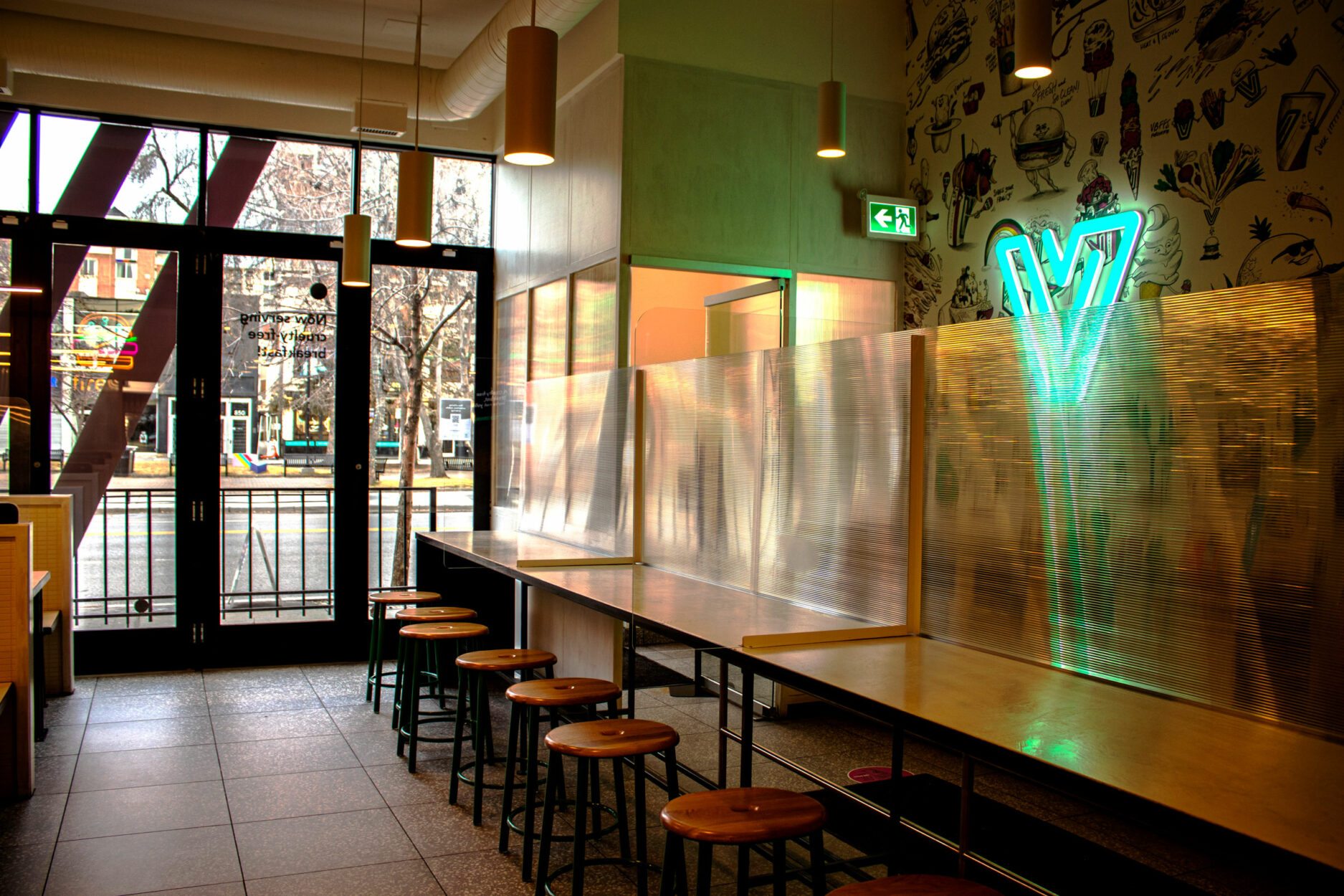 As my stomach growls, I am sadly reminded of the hardships of finding vegan comfort food.
V Burger, noticing this hole in the industry, took an opportunity and plunged into the plant-based market with burgers, milkshakes, cheez-covered fries. It's hard to believe nothing contains animal byproducts.
Located on Calgary's hip 17th Avenue, V Burger is hard to miss with its bright neon sign as the smell of garlic sauce wafts outside.
"We created the burgers to care for the environment, animal welfare, human health. We really just wanted to make good burgers and ice cream," says Andrea Harling, operating partner of V Burger and cooking genius behind the food products.
Opened in July 2020, V Burger serves up plant-based fast foods that anyone can sink their teeth into. The restaurant avoids major allergens, making the burger joint a great gathering place for people with allergies, vegans, and their friends.
"We felt like there was a bit of a hole in the market and plant-based eating really has sort of a stigma…we really don't want people to have to sacrifice quality and flavour to feel like they had to go eat plant-based," says Harling. And sacrifice flavour they do not. One slurp of V Burger's creamy cookies and cream milkshake left me wondering how something with no dairy can taste so thick and delicious.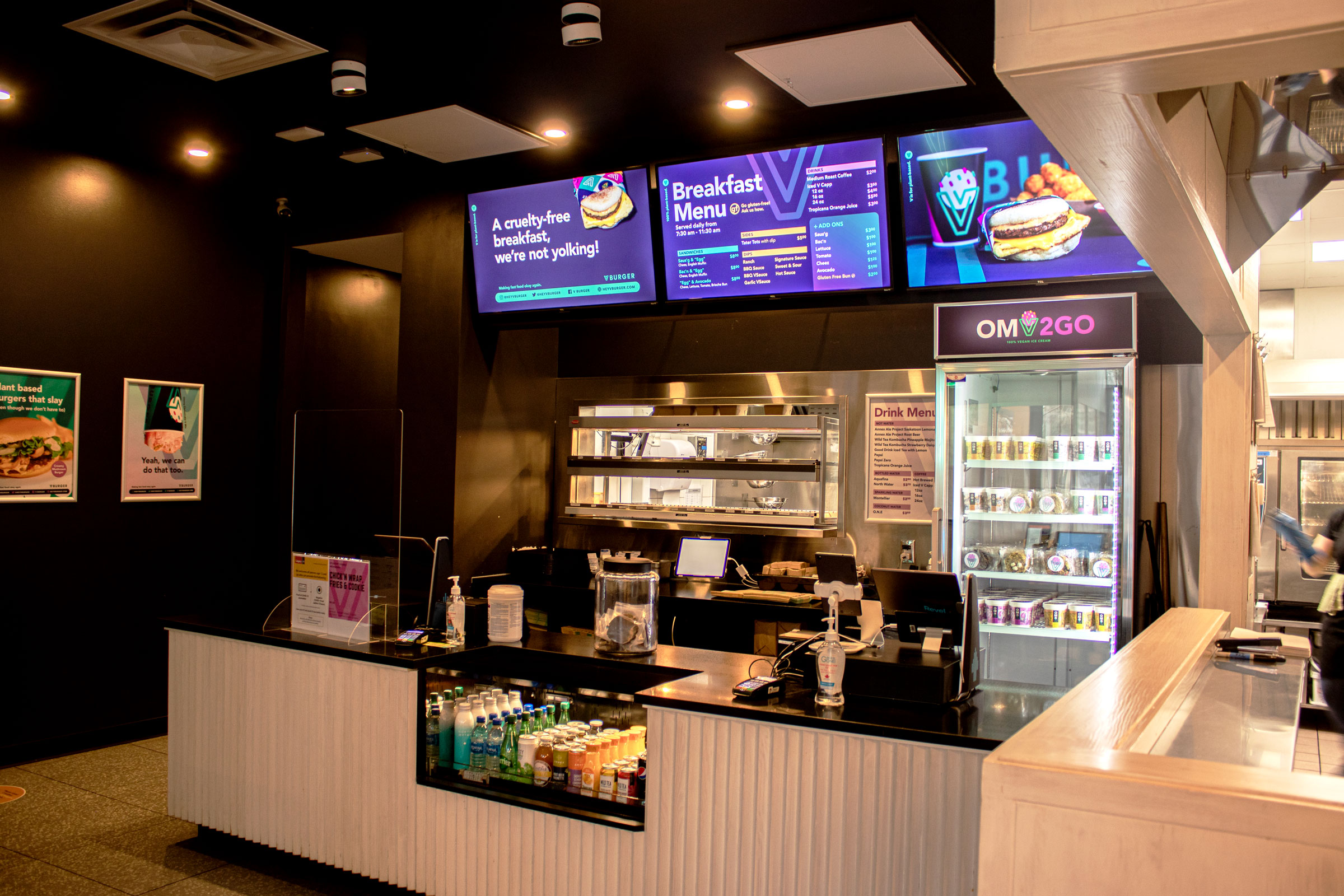 Plant-based eating can appear lacklustre to meat-eaters due to the stigma surrounding vegan eating. Harling is tackling this stigma by focusing on approachable, nostalgic foods "that reminds them of something they've had in the past." Who doesn't love a good burger?
Meat-eaters can find comfort in the nostalgic diner feel and the classic burger, fry, and shake menu.
But why the sudden push toward veganism? The trend toward vegan eating has increased in the past years due in part to the environmental impacts. By focusing on vegan foods, V Burger is not only avoiding major allergens but is also supporting sustainable living.
"We really need to take care of the planet we're on…and these impacts are a part of our food system and how we eat," says Harling. Small changes can make a big impact on the environment. According to Harling, "plant-based eating saves about 46, 000 litres of water a year."
The minimalist interior of V Burger contains a recycling section, where patrons are encouraged to sort their waste into the proper bins for landfill, compost, and recycling.
Not only is V Burger committed to greener foods but the restaurant is "on a mission to get rid of all the plastic in the building by 2023," says Harling. Currently, the burger joint is already using compostable packaging but is continuing to grow and move toward even greener practices.
Vegan eating has more benefits than just environmental. The recent trend benefits humans too. With the Canadian Food Guide pushing toward plant-based protein, more Canadians are making the change for their health. And V Burger is making the switch easier and more approachable to even the most meat-loving of eaters.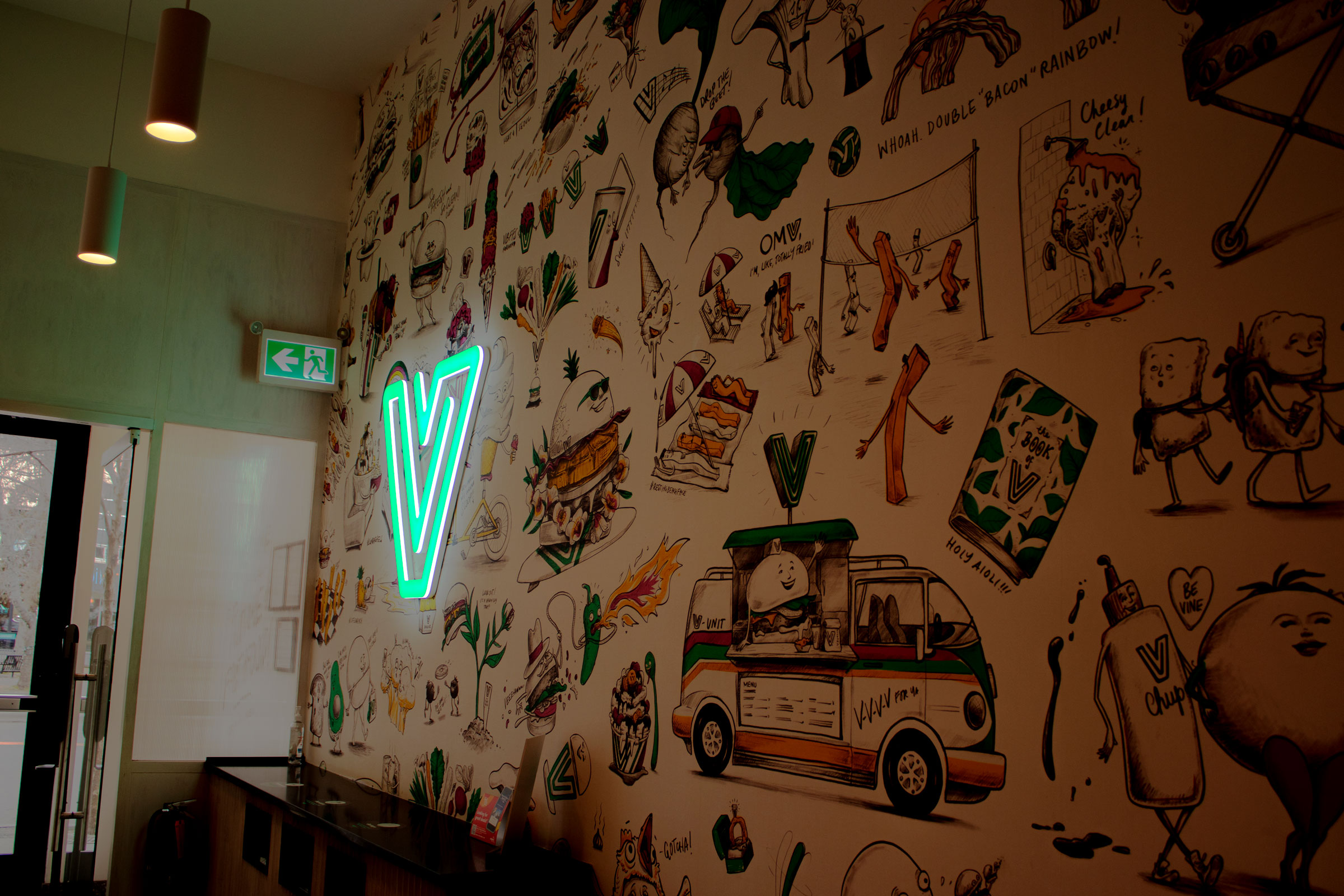 The Coup, a vegetarian restaurant, owner Mitul Kakadiya says that more people are making the vegan switch for health reasons.
"I think because of social media and the internet, everyone is sharing different ideas and one of these ideas is vegetarian. More and more awareness is spreading and people are becoming aware of the various reasons to turn vegetarian," says Kakadiya.
In Winston Craig's Health Effects of Vegan Diets article, he states that vegan eating health benefits are due to "its higher content of fibre, folic acid, vitamins C and E, potassium, [and] magnesium." Additionally, vegan foods tend to be "less saturated in fat and cholesterol," according to Craig.
The push toward plant-based eating makes sense when considering the benefits to both humans and the environment. With the market beginning to cater toward vegan cuisine, there's no sacrificing flavour. Places like V Burger make it easy and inviting to explore plant-based eating.
As I dip my CauliFritters in the steaming cheez sauce, I begin to wonder how something so flavorful could be vegan. A vegan of two years, I had begun to miss the classic fast food cuisines but V Burger heard my desperate plea for plant-based comfort food. V Burger created a gathering space for vegans and their friends, where everyone is likely to leave with a big smile, full belly, and warm heart.
V Burger isn't the only vegan option Calgary has to offer. With more and more vegan restaurants opening within the Calgary area, non-meat eaters are able to "go to many places and try different kinds of foods and encourage everyone that eating vegetarian is more than just eating vegetables," says Kakadiya.