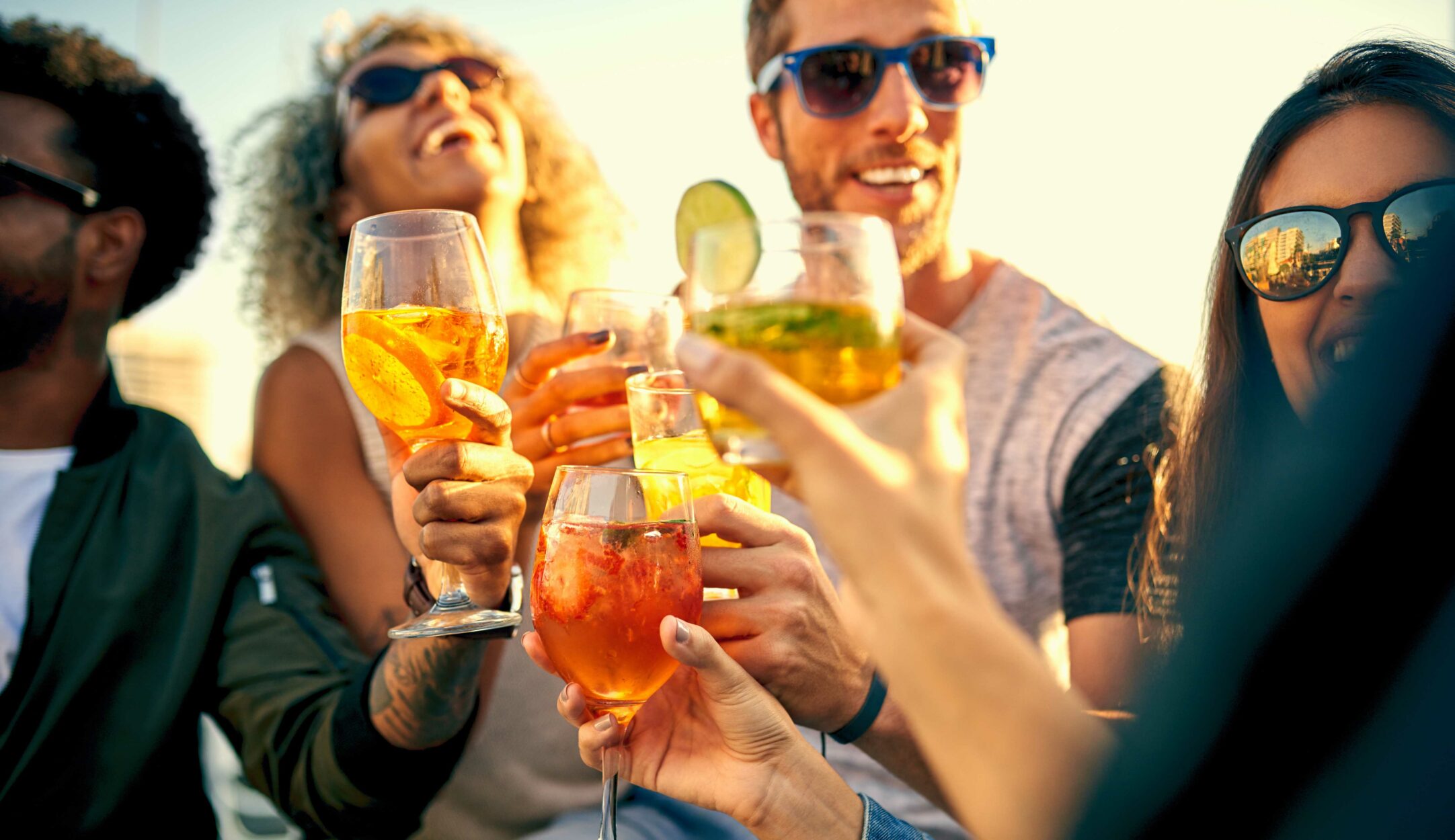 Whether you're sipping a drink, enjoying a meal, or just looking to catch some rays, take a seat on one of Calgary's best patios
When the sun is shining, Calgarians flock to outdoor dining options. This year, for the third year in a row, the City of Calgary will waive permit fees allowing more pop-up patios to overtake parking lots, sidewalks, and streets. With so many options to choose from, here is a list of unique options and what makes them stand out above the crowd.
One of the city's longest standing rooftop patios is located along 4th Street in the bustling community of Mission… Yet it is still considered a secret retreat that only locals seem to know about.
With its full sun exposure and cushioned corner nooks, you'll be comfortably seated high above the street, ready to explore their 50-bottle 'by the glass' selection. Not sure what to sip? Join them for their daily happy hour from 3-6 and take advantage of their sommelier's choice of red or white for just $7 a glass.
For those who like to keep four feet on the ground, Vin Room's street level patio invites furry friends to relax, offering dog bed seating, paw-secco, and crunchy treats.
One of the Beltline's newest restaurants came out swinging with an outdoor space nearly as large as their indoor space.
Their menu, filled with "damn good food" offers a wide variety of pub style eats, created by Chef Mike Pigot, who has been seen on many networks including Amazon Prime, Cooking Channel and Food Network. Unique food offerings include Table Side Truffle Fries, Charcuterie Pizza, and their Maui Pie for dessert.
When it comes to their crushable drinks, you'll want to check out their collection of spritz's, the rotating beer list, and curious options too – like their PB&J Old Fashioned and Spicy Tequila Pineapple Mule.
There's not a Calgarian that hasn't heard of The Ship. This iconic pub, located in the heart of 17th Ave has seen many-a-celebration. Inside you'll find a dimly lit, wood-laden pub that's home to one-of-a-kind experiences like their weekly Punk Rock Bingo. While outside, an expansive patio covered in communal wooden picnic tables, with many tops painted to celebrate the LGBTQ+ community, encourages old and new friends to gather. The Ship has always been a safe space for all.
The people watching is next level and The Ship's drink menu can keep you there all day as it hosts an impressive list of beer on draft and equally large offering of cans, tall boys, coolers, and ciders.
When it comes to food, their Nacho Platter is one of the city's cheesiest, while their Ship Burger is a classic go-to. Those with kiddos love Chicken Tendies, the weekend brunch option of a Little Breakfast, and maple-syrup-drenched Pancakes.
The Indoor/Outdoor Park: Porch
When the rain hits and other patios have their patrons scattering, you can count on Porch, one of 17th Ave's newest restaurants, to keep you nice and dry.
The exterior patio side of Porch restaurant has been constructed to feature a mechanical accordion rooftop that can quickly close with the touch of a button, bringing you magically indoors. The restaurant's permanent interior side features a large skylight and tables nestled in a grove of leafy green plants, flanked with an enormous tree… You'll believe you're outdoors no matter where you are at Porch!
To continue their eco-fantasy, Porch offers an array of seating options including several fully operational rope swings to sip and snack in.
For dinner you'll find a comprehensive menu, and for those late diners there is an evening menu with elevated and playful favourites like the Porch Hotdog and the Porch Poutine with double smoked bacon, Quebec cheese curds, sour cream, and topped with barnyard gravy.
When it comes to drinks, Porch's cocktail menu reads like a breath of fresh air featuring names like the Early Sunrise, Dancing Under the Sun, and the Plight of the Bumblebee. Their offerings also include a generous list of wines, creative twists on classic cocktails, and even their own canned beverages: Porch Pink Lemonade and Gin Garden.
Located on the rooftop of the historical Simmons building in East Village, this year the landmark will see a new culinary experience for guests. For this concept, Chef Connie DeSousa was inspired by New York City pizza and the oyster bars in Grand Central Station. The menu will feature pepperoni pizzas from Connie and John's Pizza alongside an array of seafood options.
"Think raw oysters and opulent seafood towers with giant crab claws, shrimp, oysters, and ceviche," says DeSousa.
During the day, Rooftop Bar has full sun exposure with optional umbrellas for those who may forget their SPF, and as day turns to night, you'll continue to keep warm beside the fireplace or under one of the many gas heaters.