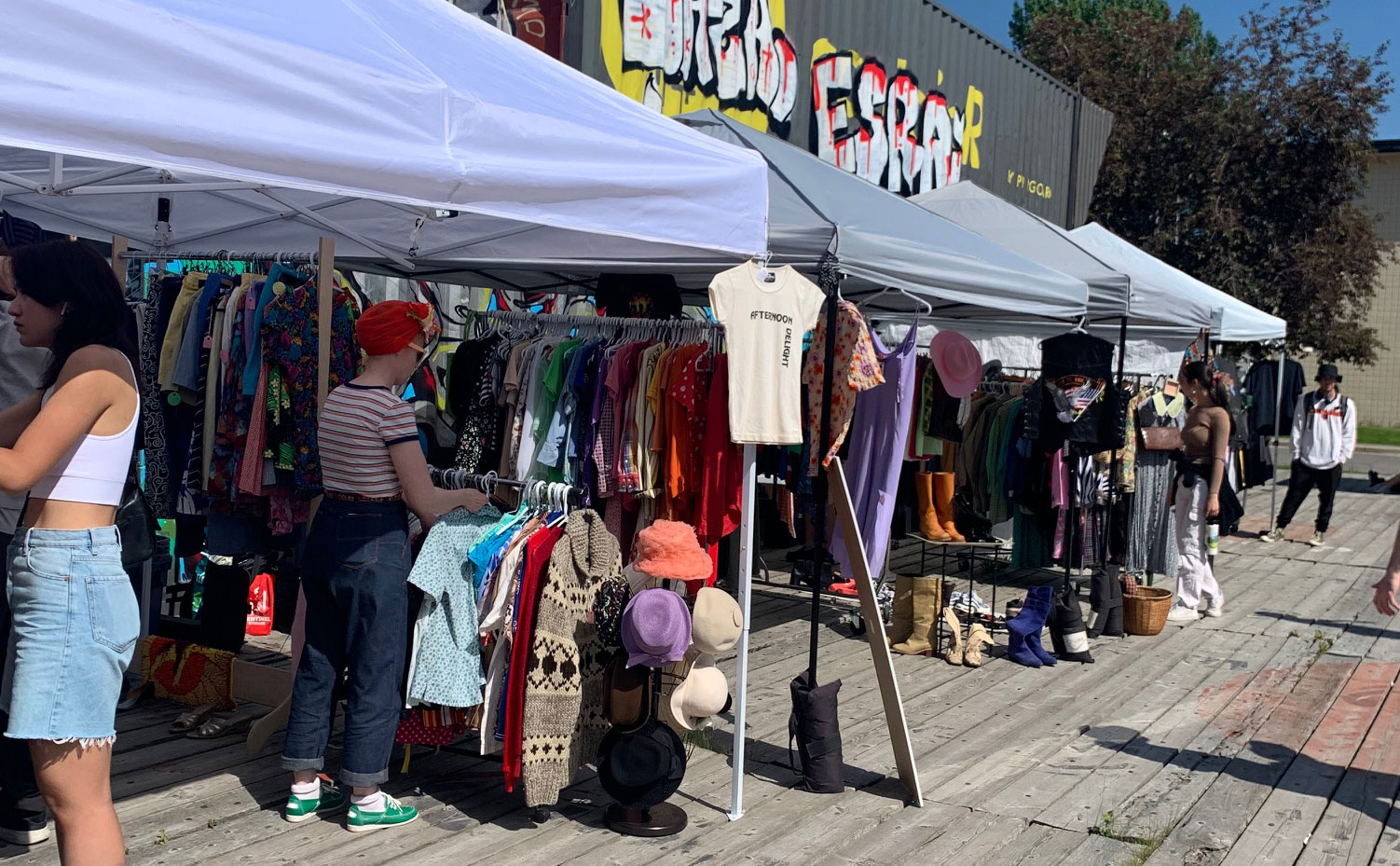 Paris Hofer
On Saturday June 25, Bloom Market Collective held an outdoor vintage market at containR in Sunnyside. There were 13 different vendors at the event, each set up in their own booth with racks of vintage clothing, jewelry, hats, shoes, and more.
The Venue
Bloom had their first Calgary pop-up market in September 2020 and have continued to run them a few times each year. This month's market was held on a perfect day, with lots of sunshine and clear blue skies. A great day for locals to get outside, meet new people, and find some vintage treasures! containR was a great venue to hold the event at, as the shipping containers surrounding the area are covered top to bottom in cool street art. This made for an interesting backdrop behind each booth while also creating a feeling of separation from the neighbouring train station. Bloom even had a DJ performing on the park stage, to add to the fun atmosphere!
The Vendors
With 13 different vendors comes 13 different styles of clothing, so there was something for everyone. With vendors like YYC Drip, Mestizo, and Vipe Vintage, there was no shortage of vintage streetwear to browse. The Darning Darling Shop and Rose's Reloved had more traditional vintage clothing for sale, and Cosmic Sisters YYC had some fun Y2K vintage pieces in stock.
On top of all the vintage resellers that were in attendance, there were also some handcrafted items from local businesses. Emilie MacPhail Studio had a booth at the event to sell their handmade embroideries and patches. They were also creating custom embroidery on the spot for customers! Sweetgrass and Sage, an Indigenous owned business, was also at the event, selling handmade beadwork items.
Registration for the next Bloom market in August is already open! Check them out on Instagram @bloom.yyc for more information.