A Feminist Frontier – How Madame Premier Came to Be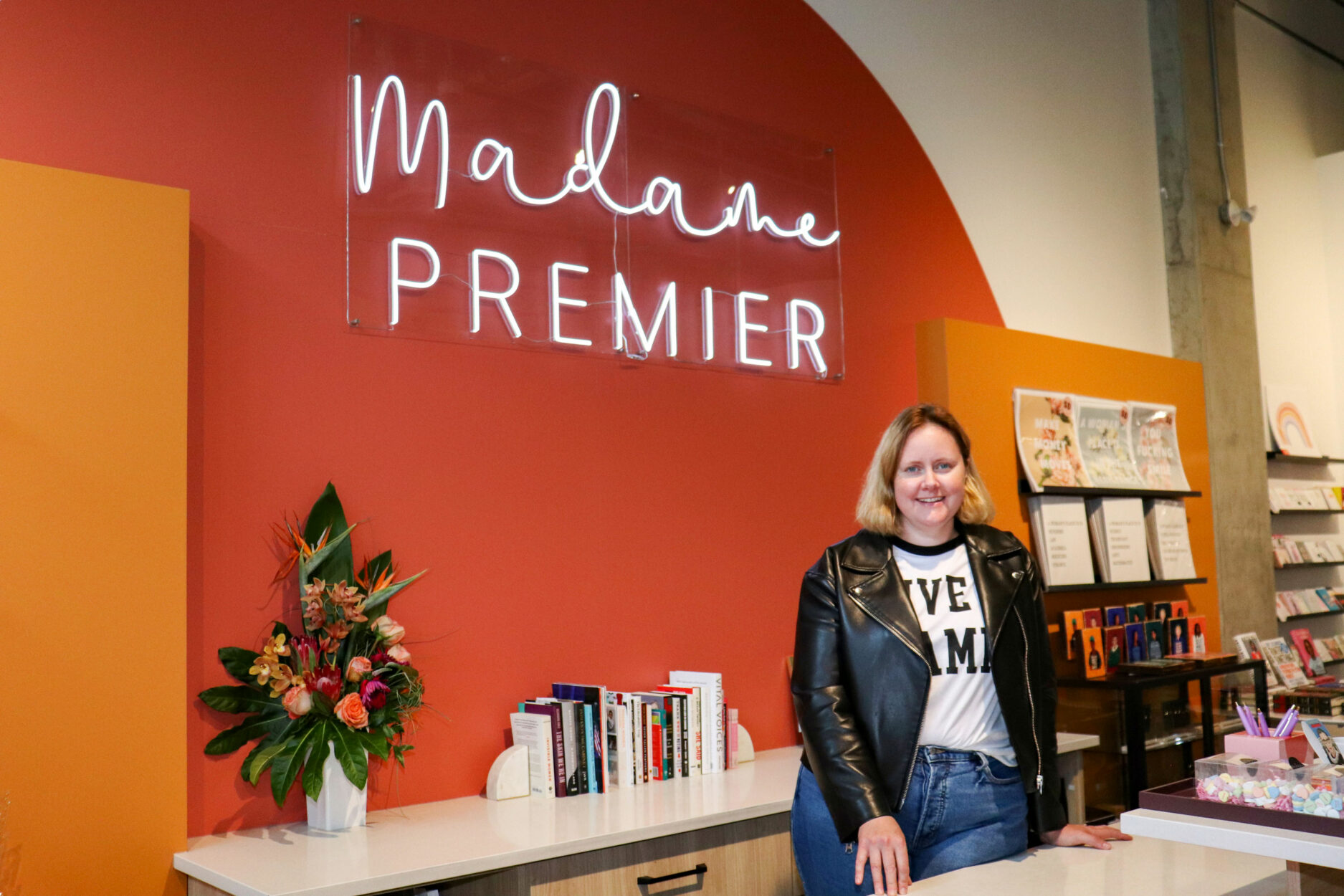 Paris Hofer
Sarah Elder-Chamanara is the founder and owner of Madame Premier, a political feminism brand and storefront in Inglewood. She started this business to empower women and encourage them to pursue careers in politics and design. Alongside managing this brand, she also runs a political feminism podcast and book club, and acts as a political commentator on current events on Alberta Primetime. To get a deeper look into what went into the creation of Madame Premier and all it stands for, I sat down with Sarah Elder-Chamanara to hear her story.
Q. Can you tell me a bit about yourself and your background?
A. My degree is in Justice Studies, and I did my undergrad thesis on the use of restorative justice as an alternative means to the traditional justice system. I finished my degree while I was working in politics in B.C. I worked for different cabinet ministers for the former government.
Q. How did the idea to start a political feminism business come to life?
A. I had that lived experience of working in politics as a young woman, experiencing the lack of women and diversity, being sometimes the only woman in the room. Even from a position of privilege, being a straight white woman, just seeing some of the barriers and thinking, we need to do something about this, but not really understanding what. Then, in my post-political life after I moved to Alberta, it was about getting slightly more involved specifically in the causes of women and politics.
It's like people who love sports, you can go to literally everywhere and buy your sports team's hat or T-shirt, and it's a literal representation of what your interests and values are. There just wasn't anything like that for women in politics. I design essentially for myself and then think about other women in politics, and it's obviously grown beyond that into more of an advocacy, an activist brand. Madame Premier is a constant evolution.
Q. What pushed you to take the official step to start Madame Premier and what was the process like?
A. It all kind of came to a head in 2018, where I was on the board of a non-profit in the city and I did the A Woman's Place Is In Politics design. I pitched it and was like, "Hey, we can use this as a fundraising tool to fund programming," and they weren't interested. So, about six months later in 2019, the idea came for what is now Madame Premier. Then it launched just before the 2019 federal election.
The idea for the store started in the winter of 2020, when there was a greater sense of optimism that COVID was maybe coming to an end. My thought for opening a store was that I wanted to create a space that wasn't just a store, but a place to create community. A place for events, a place for women to gather, a book club, so many different venues and options. There wasn't anything like that. I started looking around the city, and it was in February or March 2021 that I signed the lease, and then the store opened in the middle of July 2021.
Q. How have you personally seen your business impact others?
A. A woman came in just an hour ago and was like, "Wow, I just couldn't imagine a place like this existing 20 years ago here," and that's very touching. I've had people come in and cry even. I know what it means to me, and I know what people tell me it means to them, but I don't know if I can fully comprehend the impact of that. They feel seen, in a way, because this doesn't exist anywhere else.
Q. What are your goals for the future, personal or professional?
A. First and foremost, as a mom, I have two young sons, I want them to be feminists themselves. I want them to be good people, good partners, good humans going out into the world. That's my number one goal in life, above and beyond anything else.
I want to have Madame Premier thrive and to have the ability to let it grow. It is a business, and it does require people to come in to make it a success and to live on, so making sure that happens. You can build something amazing but unless people know about it, it's really hard. It's like a baker that makes amazing cakes. Someone has to eat the cakes in order for them to be able to bake more. It's the same with any business.
Q. What can individuals do to support the political feminism movement?
A. People need to make more opportunities for women in all areas. The number one thing that people can do is vote, especially at the municipal level. I think that's a level that gets such low voter turnout, so it really matters.
Besides voting, I really encourage people to talk to their children about politics. It's not something that needs to be taboo, it's something that we need to talk about openly, and not just in a negative way. We need the next generation of world leaders, provincial leaders, municipal leaders. We need to talk specifically to girls about being engaged in government, about having careers in government, careers in politics. There are so many men that are born with this immense amount of confidence that they belong in politics, and we need to foster that same sense of confidence and entitlement in girls.
You can check out the Madame Premier brand online at madamepremier.com or in person at the brick-and-mortar located in Inglewood.