cōchu chocolatier – Calgary's Newest Sweet Spot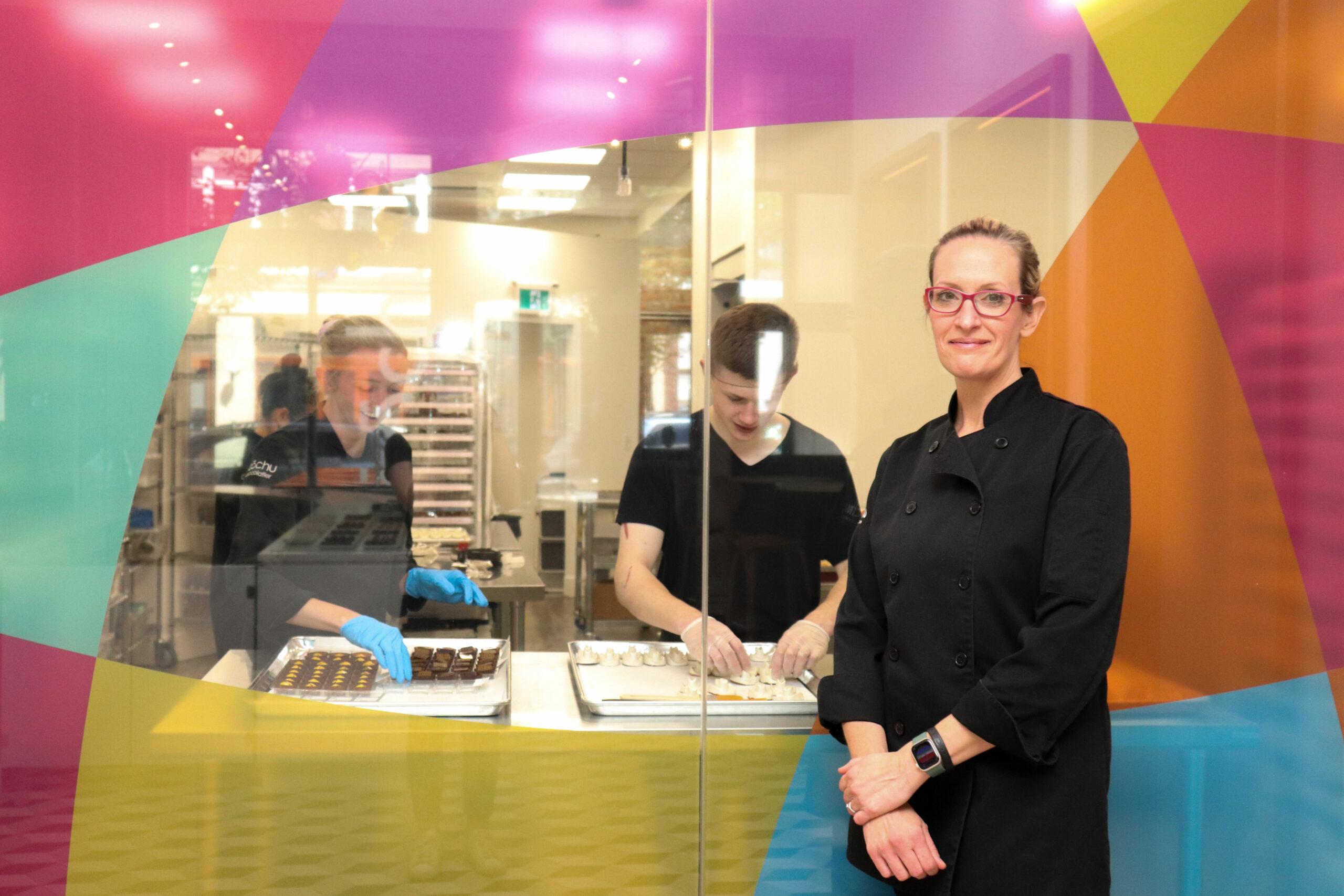 Paris Hofer
At the beginning of July, cōchu chocolatier held the grand opening of their brand-new storefront in the East Village. Since Anne Sellmer launched the Calgary born brand in 2017, cōchu has been working with local suppliers and businesses, creating mouth-watering flavours, and winning chocolatier awards across the globe- over 68 to be exact! Now, over three years later, cōchu finally has a storefront in the city.
The shop is located right beside the Calgary Central Library and Studio Bell. The proximity to these places puts it in the perfect spot to catch the attention of locals and tourists visiting those popular attractions. The building itself is an older one, built in the early 1900s. While designing the interior, the cōchu team left as much exposed brick on the walls as possible, in an attempt to keep some of the building's history alive. Contrasting the older brick walls, they added bright white appliances and an interesting monochrome tile design on the floor. All these elements come together quite nicely, creating a mixture of classic and modern designs. The team also added a colourful glass wall along the back. This adds a pop of colour, while also showcasing the chocolatiers at work, making and decorating the chocolates.
Anne Sellmer had not always been an aspiring chocolatier. While raising her three young sons, she taught them the importance of following your dreams and doing what you love. Eventually, they turned the question back around to her, asking her if she was following her passions. After taking some time to travel and think this question through, she found that her passion was ultimately chocolate.
All the chocolates and flavour combinations at cōchu are Sellmer's creations. When asked what her favourite item in the shop was, she could not answer. She said that because she created all the chocolates, they are all things she loves to eat. The storefront is stocked full of many different types of chocolate, all made by the hands of the cōchu team. The team is comprised almost entirely of women, with the exception of Sellmer's three sons.
Since they are chocolatiers, they source their chocolate from abroad and create new flavours and designs. They also source ingredients from local businesses, including coffee from Phil & Sebastian Coffee Roasters and honey from Drizzle Honey. They have numerous flavours of award-winning bonbons, classic chocolate bars, their beloved chocolate hippos, and even a chocolate fountain from where they serve costumers cups of melted chocolate- yes, a whole cup of drinking chocolate!
In the future, Sellmer is planning to expand cōchu into more than just a storefront. She wants to hold tours of the building and kitchen, where the chocolate is made and designed, as well as chocolate tastings. Sellmer said chocolate is similar to wine, in that there are different ways to taste different kinds. She wants to be able to give people that experience. She would also like to hold chocolate making classes. This would give people the opportunity to have a hands-on learning experience that they cannot get anywhere else in the city.
Stop by the new storefront, or one of their retailers listed on their website, to get a taste of all the deliciousness that cōchu chocolatier has to offer!