The Luminarium – A New Interactive TELUS Spark Experience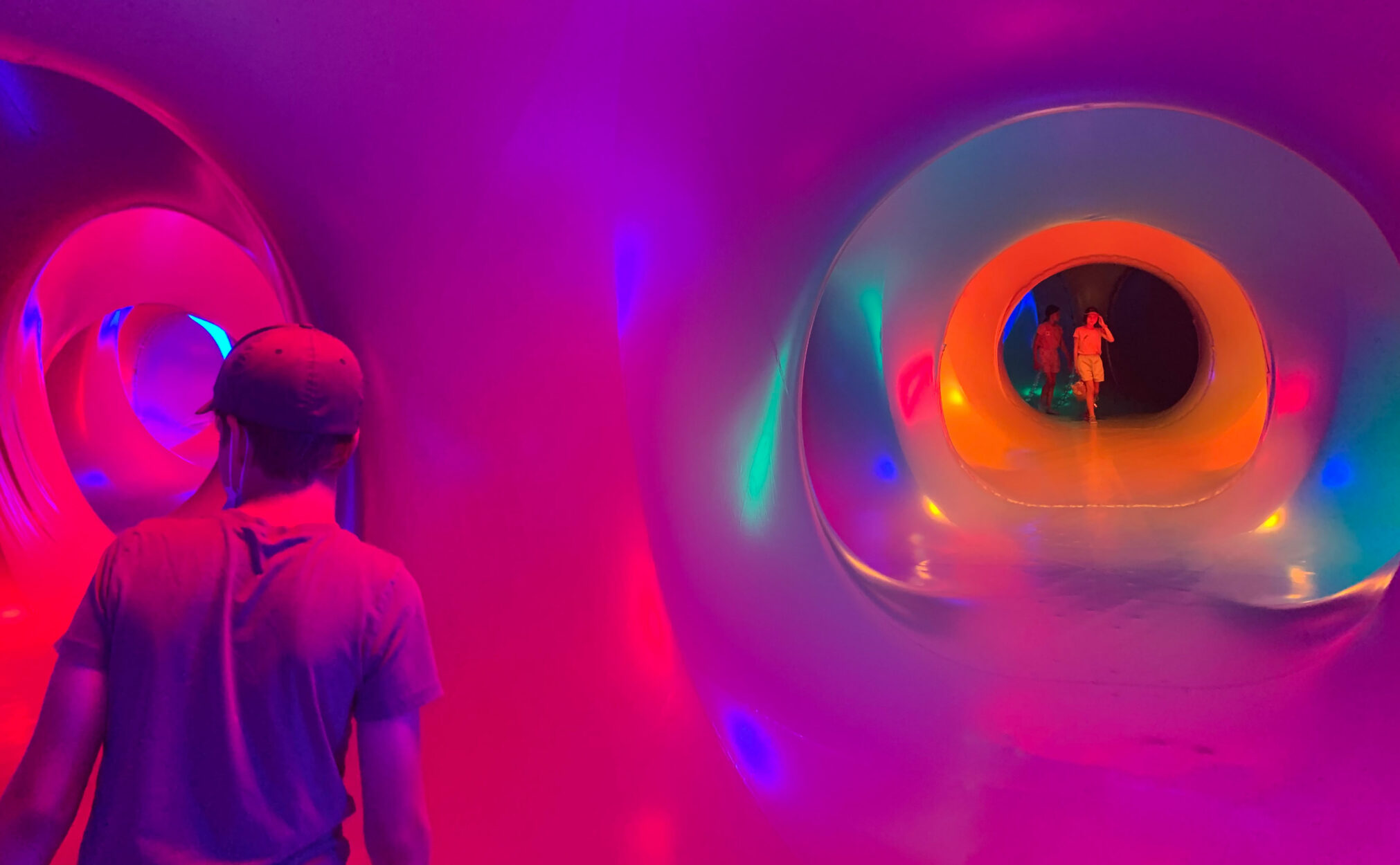 Paris Hofer
For the entire month of July, the TELUS Spark Science Centre is showcasing a new interactive experience, Luminarium: The Timisien.
The Luminarium is an 11, 000 square foot inflatable structure. From the outside, it looks like a massive bounce castle; however, it was hand-made from a very thin plastic, meaning there is no bouncing allowed.  The Luminarium was given to the TELUS Spark Science Centre temporarily from Architects of Air, an arts organization based all the way in England!
Walking through the structure is meant to resemble the feeling of walking through a giant kaleidoscope. In my opinion, it does. The coloured plastic used to create the walls and ceilings act as a filter for the sunlight as it shines through, resulting in a rainbow of light casting throughout the entire structure. Although the photos taken inside are beautiful, seeing it in person is much more captivating.
You have to remove your shoes and listen to a short debrief before entering.  This includes some background on the creation of the structure, as well as some rules that you must follow. Since the sunlight is beating down through the plastic to create the lighting effect, it gets extremely warm inside. Bringing a water bottle is a good idea, even though there are a few vents blowing cold air throughout the structure.
Aside from the Luminarium, Spark also has all their regular exhibits on this summer. This includes Quantum Sandbox in the digital immersion gallery. The projections on the walls and floor create movement using sensors and light. This is another experience that is most impactful when experienced in person! TELUS Spark also has their new infinity dome theatre that plays multiple different shows throughout the day. The dome provides a 306-degree screen, as well as 8K projections. This creates an intense viewing experience that cannot be found in regular theatres!
There is also a new tasting experience waiting for you at the Astronaut Ice Cream Café. Of course, they still have their regular planet-inspired flavours, one for each individual planet- including Pluto! Each have some crazy flavours and additions, like the Mars, which has an entire Mars chocolate bar on top. The newest flavour for the summer is the James Webb, which has sponge toffee and even a honeycomb cookie on top.  You can access the Astronaut Café without buying admission into the TELUS Spark Science Centre. This means you can simply stop by for a sweet treat anytime throughout the summer!