"You feel like you're everywhere in the world"- International Vibe at Spruce Meadows this September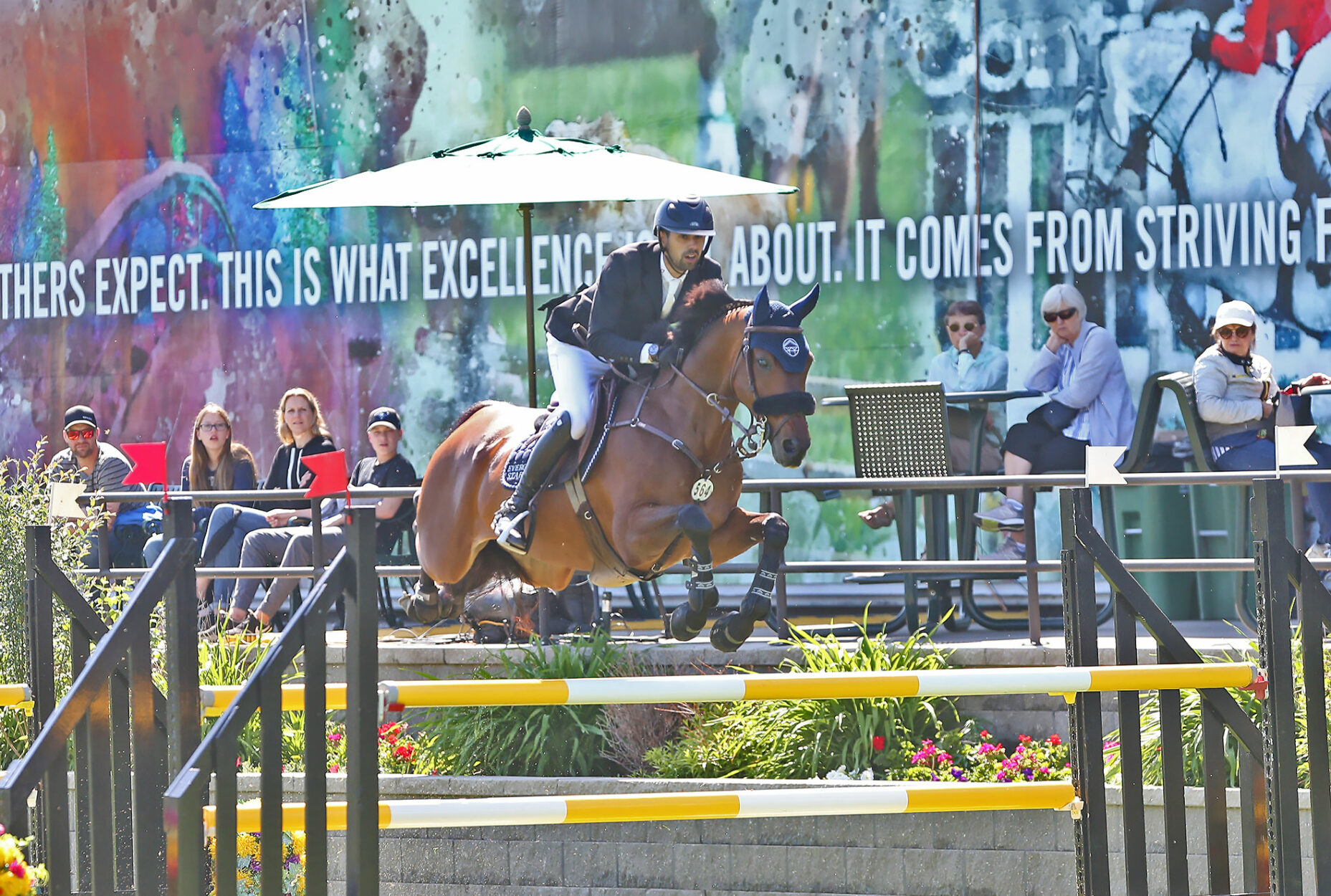 Nayel Nassar riding Jiminy Cricket. Photo courtesy of Spruce Meadows / Mike Sturk
Looking for an international experience, without the hassle of getting on an airplane? Experience an international ambience at Spruce Meadows this September without leaving the city.
Appreciate the variety of languages being spoken, the grandeur of the International Ring encircled by flags of the world, the stunning warmblood horses that cost more than an average Calgary home, and the show jumpers themselves – athletic nomads who travel from show to show around the world, recognizable by their white breeches and tall black riding boots, usually with a dog by their side. As Canadian show jumper Alicia Timm says, "The atmosphere at Spruce Meadows is unmatched. You feel like you're everywhere in the world."
Few Calgarians know that Spruce Meadows is widely considered the number two show jumping venue in the world, falling only behind CHIO Aachen in Germany, where equestrian sport is revered as hockey is here. Every September the best horses and riders converge in Calgary from around the world, arriving in special planes designed to ship horses.
Show jumping is an Olympic equestrian sport where horses and riders complete a specified course of six-foot high jumps, testing precision – the ability to leave all the fences standing – and speed. The winner is often determined by an exciting jump-off against the clock. Ride too fast and a jump may come down, but leaving all the jumps up with too slow a time may be too cautious a strategy to secure a $2 million dollar grand prix. With so many variables, the results are exciting and unpredictable.
Men and women compete against each other at the same level, since the equine partner levels out differences in physical characteristics. Jeff Boyd, RBC Regional President for Alberta & The Territories, is a show jumping fan.
 "I like the fact that you could have a 70 year old man in a competition with an 18 year old young woman. They're competing on even footing. In what other sport does that happen?" - Jeff Boyd
Canada has long punched above its weight at the international level, with household names like Ian Millar and Eric Lamaze representing Canada in numerous Olympics and World Championships. Though Ian Millar is now retired, his daughter Amy Millar is a member of the Canadian Show Jumping Team and a Spruce Meadow regular. "I love it here," Amy Millar explained. "What amazes me about Calgary every time that I've come back is how much it's changed. The city, and Spruce Meadows, and even the roads – you guys are in a constant state of improvement around here. Nothing stays the same. It's very impressive!"
Nayel Nassar, who represents Egypt and is married to tech heiress Jennifer Gates, will be competing at the Spruce Meadows 'Masters'. "This is such a prestigious venue. Everyone wants to win here. So anytime you can be at the top here you know you're at the top of your game." Nassar speaks to the appeal of show jumping. "It's a beautiful game that we get to play with really amazing animals."
A fan from Nova Scotia, Greg Lourme, appreciates the Spruce Meadows ambience. "This is our second time. It's fascinating. I'm from Halifax, so this is something we don't have. It's fun to come and see the horses jump - and the atmosphere is great."
Amble the fully licensed grounds with a beverage in hand, and peruse the variety of non-horsey attractions including market shopping, first responder demonstrations, dog competitions, and more. Dress varies from shorts and jeans, to dresses and fascinators – wear whatever you like, as long as you can walk comfortably. Golf carts are widely available to shuttle guests with mobility needs.
Enjoy exciting sport at Spruce Meadows early this September. The 'Continental' tournament runs from September 1-4, while the 'Masters' tournament takes place September 7-11, culminating in Sunday's CP International Grand Prix. Tickets start at $10 per person, per day, for general seating. Visit sprucemeadows.com for more information.