10 Ways to Fall in Love with Calgary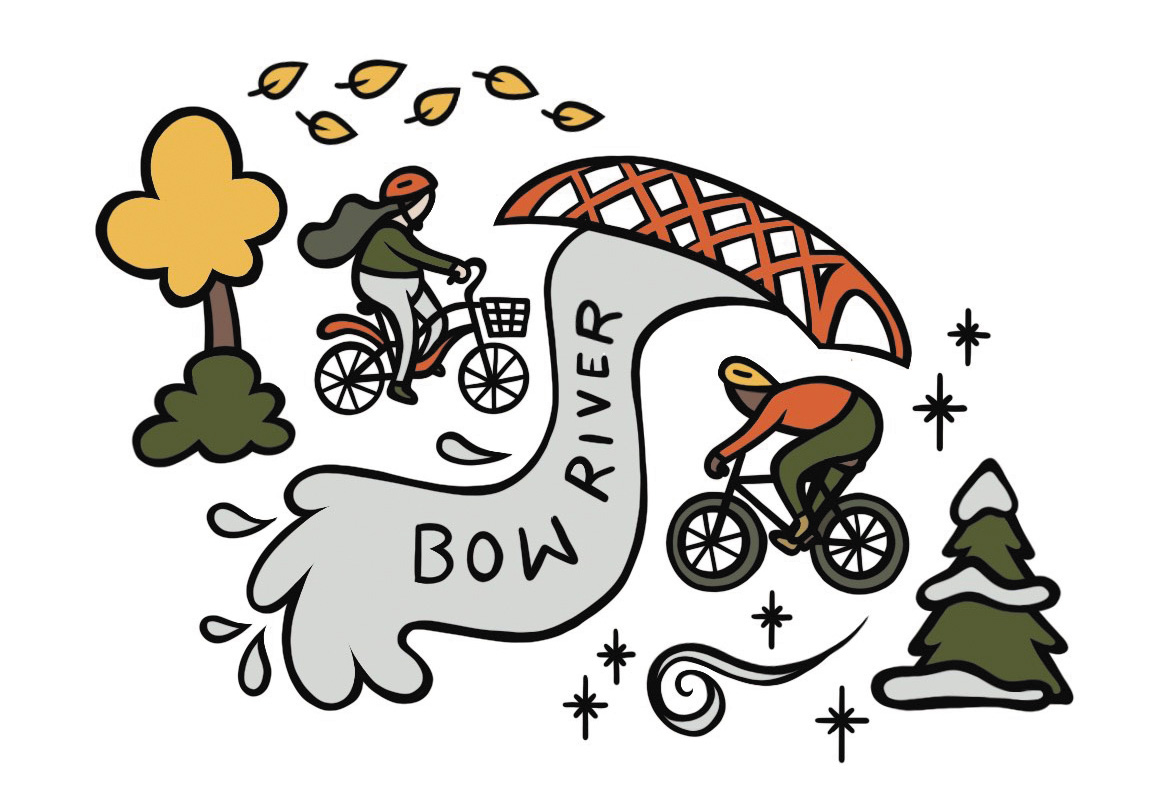 Steph Reynolds
Fall in Calgary is a uniquely beautiful time of year. From crisp days with colourful leaves to fresh snowfall and the twinkling lights of the holidays, the season is as changing as it is magical. With the long, hot days of summer gone for another season and the coldest days of winter still ahead, fall in the city is one of the best seasons to get out and explore. So take a journey and explore the top 10 ways to fall in love with Calgary!
1. Cycle Through the Seasons
Autumn is the perfect time for biking the city's parks and pathways. Pedal along the Bow River and take in the cityscape, or bike to the lovely small shopping districts of Kensington and Inglewood. Take a guided tour with Calgary River Wheels to discover the best places from a local perspective. Don't have your own wheels? Rent bikes from Outdoor Centre at the University of Calgary or try pedal assist from Pedago E-Bikes. As the snow starts to fall, fat biking is a great way to get exercise and navigate the city. The larger tires and frames are perfect for snowy trails, and this popular mountain activity is making its way to the city. Try a fat bike, outfitted for the snow with studded tires, from Bow Cycle or Ridley's Cycle and take in the beautiful early snowfalls.
2. Catch a Show
Fall is an excellent time to catch a show in Calgary. And there's plenty to choose! Whether you're enjoying Calgary's theatre scene, taking in the orchestra, getting swept up with ballet, or experiencing an event, there's a lot going on this fall in the city. Due to the popularity of Beyond Van Gogh last year, the cutting-edge projection technology and a unique score is returning to Calgary with Beyond Monet This impressive display is the largest immersive experience in the country! Theatre in Calgary is back with performances including The Importance of Being Earnest, Jesus Christ Superstar, and Murder on the Orient Express. The Calgary Philharmonic Orchestra has some excellent performances on the docket, including Disney in Concert and Stravinsky's Firebird, performed with dancers from Alberta Ballet School.
3. Engage in New Exhibits
Connect with Calgary's art scene by visiting one of the many excellent galleries throughout the city. Find Indigenous art and crafts from Moonstone Creations or explore contemporary galleries like VivianeArt or Paul Kuhn Gallery. There's no better time to discover the arts in Calgary. Esker Foundation is a free space to celebrate visual arts. Their fall exhibits include Chloë Lum & Yannick Desranleau: The Garden of a Former House Turned Museum, Gailan Ngan: From The Studio Floor, and Robin Arseneault: Falling Off The Log. Gibson Fine Art is hosting exhibitions of new work for award-winning contemporary artists Ian Sheldon and Sheila Kernan. Herringer Kiss Gallery is hosting fall exhibitions from Shelley Adler and Joe Fleming, Darija Radakovic, and Dick Averns. The city is full of unique galleries carrying everything from historic to modern artwork. Take some time to discover your new favourite this fall. You'll be glad you did.
4. Admire the Fall Colours
Autumn leaves are the highlight of the season, and Calgary has many parks and green spaces to take in the fall foliage. City parks like Prince's Island Park and Fish Creek Provincial Park have great fall colours, while the Inglewood Bird Sanctuary and Glenmore Reservoir have stunning displays reflected by the water. Take in some public art on your outdoor journey and check out pieces like "Device to Root out Evil" by Dennis Oppenheim, featured on our cover. For added adventure, visit Heritage Park and travel through the colours on a steam powered train. Visit the Wilder Institute/Calgary Zoo to enjoy the leaves, learn about your favourite animals, and support award-winning conservation efforts.
5. Find Some Frights
Are you ready for Halloween? This holiday is the perfect time to get some frights and enjoy the scarier side of the season. If you're looking to get frightened, ScreamFest promises a scary good time with events for those aged 13+. For something less frightening, dress up and visit the Wilder Insititute/Calgary Zoo for ZooBoo, a family-friendly Halloween celebration, or take in Pumpkin Fest at Granary Road. Discover the darker side of history with a Ghost Walk in Inglewood. Learn about one of Calgary's oldest neighbourhoods and the heritage buildings with their spooky stories. It's a great way to get ready for Halloween and appreciate this funky neighbourhood.
6. Shop till You Drop
Fall is the perfect time to get a fresh wardrobe full of cozy clothes to keep you warm over the long winter ahead. It's also time to start thinking about holiday shopping, with the season fast approaching. Fortunately, Calgary has some excellent places to browse, explore, discover, and shop this fall, and there are many small, independent businesses to support. Find everything for the men in your life at Stuff. The curated collection of everything will have something for that hard-to-shop-for fella. Bolder Menswear sells men's fashions in an easy, hassle-free store. Find your perfect political look at Madame Premier and support the movement to involve more women in politics.
7. Take a Walk Indoors
As the weather cools and the days get shorter, walking outside can become more difficult. That doesn't mean you can't get around downtown and enjoy the sights, shopping, and dinning – you just have to take it indoors! The Plus 15 Network is a series of elevated, climate controlled indoor walkways that connect various buildings in downtown Calgary. The system has 86 bridges and counting that are built at least 15 feet above the ground to allow pedestrians to navigate the downtown core without stepping out into the chilly weather. The CORE Shopping Centre is at the centre of this network, and with every kind of shop imaginable, you'll find whatever you need to get walking, indoors and out!
8. Break Out the Skis
As the snow begins to fall and winter sets in, it's time to break out the skis. Many parks and several golf courses are track set for cross-country skiing. Find groomed trails at Bowness Park, Confederation Golf Course, Lakeview Golf Course, Maple Ridge Golf Course, North and South Glenmore Parks, and Shaganappi Point Golf Course. All these areas are free to use, making them an excellent way to get outside and enjoy some fresh air in late fall. There are plenty of places to rent skis in the city, including the Outdoor Centre at the University of Calgary, Sports Rent, or Rapid Rent. If downhill is more your style, visit Winsport Canada Olympic Park for downhill skiing, complete with lessons, rentals, and other fun winter activities.
9. Lace Up Your Skates
As the ponds and reservoirs freeze for the winter, they become excellent places for skating. Whether you're playing a game of pond hockey, or skating with family, this wonderful winter activity is an excellent way to stay active during those late fall days. Some great places for skating include Olympic Plaza, North Glenmore Park, and Prairie Winds Park. At Bowness Park, rent skates at the Outdoor Centre at the University of Calgary. They also rent ice bikes, a unique bike with a wide base that skates on ice. If you want to watch hockey from the grandstands, check out the Calgary Flames at the Scotiabank Saddledome and cheer on Calgary's NHL team.
10. Celebrate the Season
As fall fades to winter, it's time for the holiday season! There are plenty of ways to celebrate in the city. Take in the twinkling ZOOLIGHTS for 6 weeks of magic. Visit the famous Spruce Meadows International Christmas Market and get into the spirit. The end of autumn means the festivities begin. The holiday season in Calgary is celebrated with excellent performances including The Nutcracker from Alberta Ballet, Home Alone in Concert from Calgary Philharmonic Orchestra, and Little Women from Theatre Calgary . The season also features Spark after Dark: Sparking the Holidays, an adults-only evening at TELUS Spark Science Centre and Zoo Year's Eve at the Wilder Institute/Calgary Zoo.
No matter how you enjoy your time in the city, we hope you find the perfect way to fall in love with
Calgary this season!