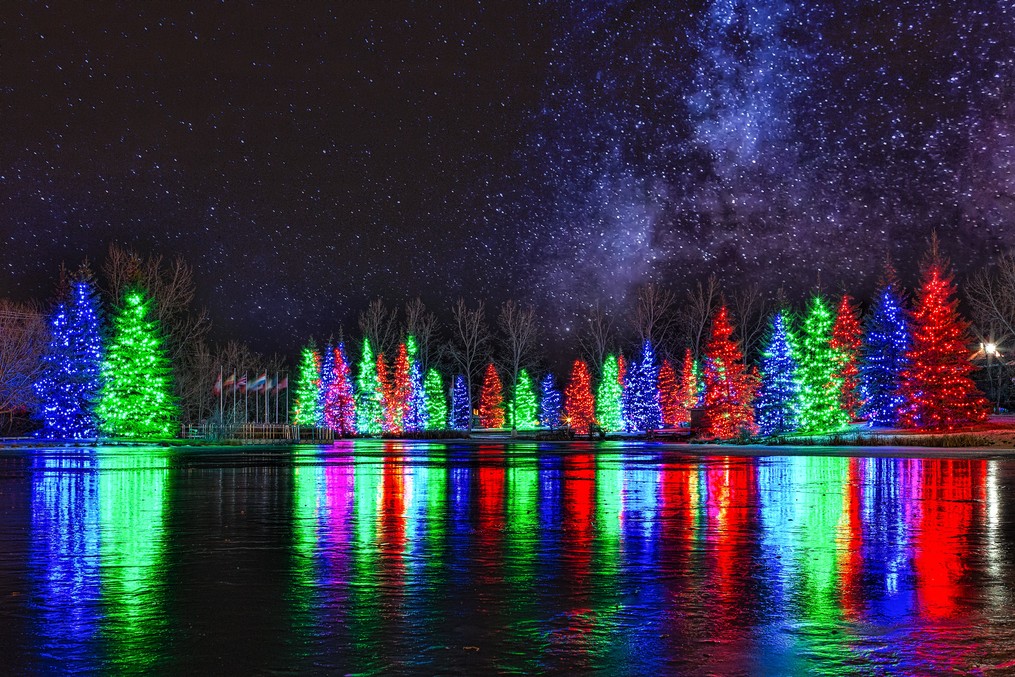 Travel Alberta, Andy Young @sunpluse.ay
Snow is falling from the sky and the air is getting colder with each step.  You are walking around downtown Calgary with a hot beverage in your hand.  You look around at this marshmallow world and it looks so beautiful. The snowflakes dance around you and the normally gray buildings seem much brighter somehow.  It's like being in a snow globe.
As you walk down the street to head towards work, you think about what the season of winter is going to bring.  Mostly it is peppermint flavoured drinks, snow-laden sports, and the anticipation of the holidays.  You let out a happy sigh and watch your frozen breath blow away.  Between then and now, there are several winter festivals that can help you fall in love with this season all over again.  To tap into your inner Jack Frost, go see one or more of these events and be entertained.
ZOOLIGHTS
One of the most magical winter experiences you will find is at the Calgary Zoo.  This year we are promised the Nutcracker experience in the ENMAX Conservatory, a chocolate bar serving gourmet hot chocolates, fire pits, axe throwing, and above all else, two million Christmas lights for all to see. There is so much to see and do here that you would not know where to start. Come check it out!
Calgary Zoo, November 18 - January 8, 5:00 PM – 9:00 PM, General (16+): $21.95, Child (3-15): $14.95, Under 3: Free
Glow Holiday Festival of Lights
For the first time ever, this festival is coming to Calgary.  They are bringing us a "Christmas Around the World," theme where we get a window into how Mexico, China, England, etc. bring the magic of Christmas to life in their own cultures.  For all the adventurers and explorers looking for some good times, there is a scavenger hunt that will lead you to a prize.  Can you go to each country and find the treasure?
Nutrien Western Event Centre, November 25 – December 30, 4 PM – 9 PM on weekdays, 4 PM – 10 PM on weekends, $22.99-$89.99. 
Chocolate Fest
At Granary Road comes something special for chocoholics of all kinds.  For one weekend only, a person can enjoy the sweetest treats that many of us yearn for.  This event is said to have all kinds of brownies, cupcakes, hot chocolate, ice cream, and so much more.  Who doesn't want to spend a little time with delicious desserts like this?  Be sure to make some time and room in your stomach. 
Granary Road, November 12-13, 10 AM – 5 PM
Once Upon a Christmas
Are you ready for all the traditional fixings of a classic Christmas?  Heritage Park brings us wagon rides, Christmas carollers, crafting activities, and storybook theatres for holiday lovers of all ages.  If you want a look into the Christmas past without the ghost, this is a good way to do so.  They also have wonderful traditional treats for those who love a good wholesome feast. 
Heritage Park, Weekends starting November 26-27 and ending December 17-18, 10 AM – 4 PM, General (16+) $19.95 Child (3-15) $14.95
Hitmen Teddy Bear Toss
Do you love Hockey?  Do you want to help kids in need?  This is the event for you!  Every year since 1995, hockey fans would throw stuffed animals into the rink after the Hitmen's first goal.  After these toys are thrown, they are collected and given to the charities that need them.  In 2021, over 25,000 stuffed animals were thrown onto the ice and donated to over 70 charities.  Suffice to say, a lot of people had a Merry Christmas thanks to thousands of generous fans.
Scotiabank Saddledome, December 4, 2:00 PM, Adults $25.99 and Kids $15.99
Disney on Ice
Time to bring the magical kingdom to Calgary.  Disney on Ice is the perfect way to make memories with your family that they will never forget.  All their favourite Disney characters will be in one place with spectacular skating skills to keep you in awe.  This immersive show is complete with music, lights, and many moments that capture your heart.
Scotiabank Saddledome, November 18 – 20, 11 AM, 3 PM, &  7 PM, $45.65-$144.60.
Alberta Ballet's The Nutcracker
A cherished family tradition is coming back this December right in time for the holiday season.  This charming Christmas tale was brought to life by the music of Tchaikovsky in 1892 and is being brought back to life again by 120 dazzling ballet artists.  A reimagined tale of a young girl's journey into a magical land is just waiting to be explored.
Southern Alberta Jubilee Auditorium, December 16-24, 1:00 PM, 6:00 PM, and 7:00 PM.  $65-$208.25
Frostfest
A carnival where stilt-walkers, food trucks, and festive games is spent with those who love a good party.  Yes, it is outside and anything can happen but there are firepits, warming huts, and hot chocolate to keep people comfortable in the elements.  You will gaze in wonder at the ice sculptures being created in front of you along with the light art displays to that is sure to amaze you.
Valleyview Park, November 19-21, 4:00 PM – 9:00 PM or Sacramento Park, November 26-28, 4:00 PM – 9:00 PM.  Admission to both events is free.      
Winter does come with its set of challenges but that should not stop you from having a good time.  As the old saying goes, "When life hands you lemons, make lemonade."  Frankly, I would not be touching that snow if it looks like lemonade.  Nevertheless, make sure you get out there and see all the sweet winter festivals that makes this season so magnificent.