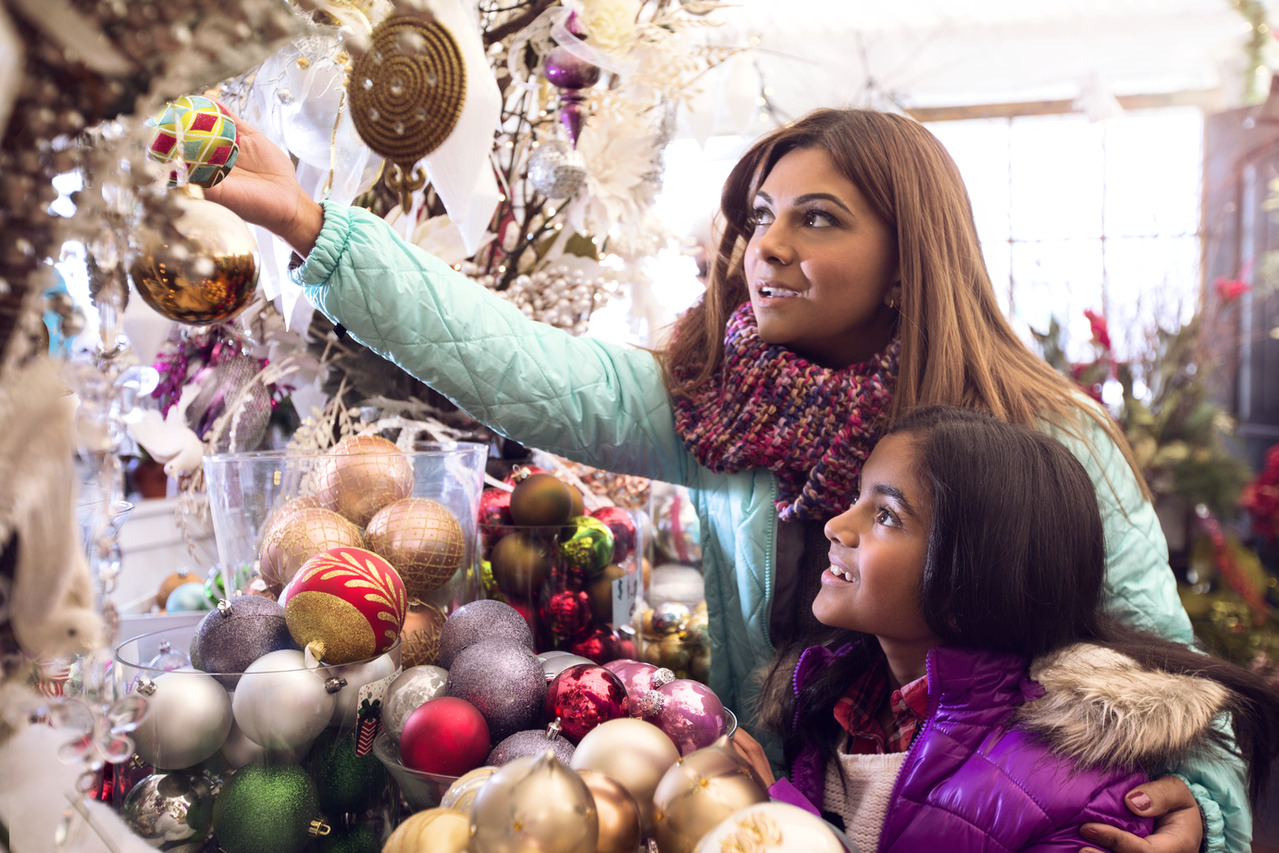 Travel Alberta, Tourism Calgary
We are always looking for that one perfect present for the people we love.  That is why you are sitting at your computer right now, looking at all those online stores.  You can't help but wonder how this list of "Top Ten Gifts" is supposed to make your loved ones happy. You look up from your computer and shake your head in utter disbelief.
"What would my sweetie do with an inflatable bath mat?"  You say aloud to yourself.  Frustrated you slam you hands on your desk.  There has got to be a better way to find that special something.
Suddenly, you get a big break!  A Calgary Christmas market ad shows up at the corner of your computer screen.  It's like a light bulb goes off in your head.  You can get your darling something truly exceptional that you could never find anywhere else.  Talk about instant thoughtful gift where you get the bonus points of being the best spouse ever.
If you are looking for a unique gift that is guaranteed to make that special person smile, check out these enchanting markets.
Millarville Christmas Market
40 minutes south of Calgary is one of the most popular holiday markets in Alberta since 1988.  People come from far and wide for the reindeer viewings, fabulous music, and the line-ups of food trucks.  This indoor/outdoor market has a variety of handmade jewellery, wood-carving, baking, and so much more to enjoy on the weekends or (if you can wait that long) the holidays.
Millarville Racing and Agricultural Society, 306097 192 St. W. November 3-6 & November 10-13 from 9:00 AM – 4:00 PM.  $7.
Holiday Inglewood Night Market
Night owls rejoice!  On every weekend, all month long in November you can do a little nighttime shopping.  Over 50 local vendors will be there selling not just arts and crafts but a variety of vintage goods as well.  It is a family friendly event but you can have an alcoholic beverage thanks to the licensed bar available in this market.  Now that is something worth checking out.
Quonset at the Crossroads Farmers' Market, 1235 26 Ave. S.E. November 4, 5, 11, 12, 25 and 26, 5 PM. to 10 PM, $5 for local charities.
Holiday Craft Fair
A good way to get a jump on the holiday gift shopping is to start at this quaint holiday weekend fair.  With over 100 artists selling their original hand-crafted items, you are bound to find a perfect gift that is meant to bring joy to even the biggest scrooge.  So, take a morning or afternoon to stop by and see what wonders these creatives have to offer.
7904 – 43 Avenue NW Calgary, AB, T3B 4P9, November 12-13, 10:00 AM-3:00PM.  Free Admission.
Spruce Meadow's Christmas Market
Thanks to Telus, we have this grand exclusive international market right in our backyard.  For three weekends this year the good people of Spruce Meadows are promising us over 300 local venders, family friendly fun, and desirable products that will make anyone swoon.  The festive atmosphere would not be complete without parking being included with your ticket.
18011 Spruce Meadows Way S.W. November 18 to 20, 25 to 27, and December 2 to 4, 2022, 12 PM to 9:00 PM, on Friday, 10:00 AM–6:00 PM on Saturday, and 10 AM-5 PM on Sundays.  $10.79 - $32.37
Auburn House Christmas Craft and Marketplace
For one Saturday only, you and your family are welcome to come into this inclusive, friendly environment.  You can look for that one homemade product that will make you smile.  Just in time for Christmas, this lovely house/community centre salutes local business, artisans, and crafters by allowing them to sell their wares here.
200 Auburn Bay Blvd. SE, November 19, 2022, 10 a.m. to 3 p.m. Free Admission but asking for Foodbank Donations.
The Holiday Market at Deerfoot Inn and Casino
Another one day only event is happening in the Hallway and the glamorous Sundance Ballroom.  This is the 2nd year that the Deerfoot Inn is putting on this fair, so if you are not busy in the afternoon, you might want to check out this brand-new market. The casino is offering 60 vendors and free admission to the public. Come for the market, and stay for the poker tables.
11500 – 35 St SE # 1000 Calgary, AB T2X3W4, Sunday, November 20, 11:00AM -4:00PM. Free Admission.
Canmore Christmas Artisan's Market
Looking for a painting? Bath and body products?  Look no further than this lovely market that is now conveniently located in two destinations.  85+ vendors will be there with the most amazing gifts you could ever want.  If this is something small like a piece of jewelry that you are looking for or a large piece of furniture you will find it here.  Spend the day in this quaint town shopping and feel free to stay for one of their sweet or savoury treats that they are famous for.
Canmore Seniors' Centre, 600 – 9 St, and Canmore Civic Centre, 902 – 7 Ave., Canmore, November 19-20, 10 AM- 4 PM. $5 for adults and kids under 12 are free.     
Christmas Market at Saskatoon Farm
For their 6th year in a row, the Saskatoon Farm is coming back in full swing.  The best reason to go to this Christmas market is because they are in constant growth and it gets more unique vendors that not too many people know about.  So, if you are feeling a little offbeat, and adventurous, this would be the hidden gem to check out.  You never know what you will find here.
80181 – 338 Ave E #20, Foothills County, AB T1S 4S3 November 25-27, December 2-4, December 9-11, 9:00 AM – 4:00 PM.  $8.
Market Collective
This market so big that they hold this family-friendly event in the BMO Centre for two weekends in December.  If you enjoy interactive workshops, live music, and having a bite to eat all in one spot, then you want to make the time to explore this event.  After all, you will want to see their galleries and find out what their many surprises are.
BMO Centre Hall B and C, 20 Roundup Way SE, December 9 to 11 and 16 to 18, 2022, Fridays 4 PM – 9 PM, Saturday and Sundays 10 AM – 6 PM, $7 weekend admission, free for kids under 12
In this technological world, we are blessed at finding just about everything at our fingertips.  However, there are treasures out there that can not be found on a computer screen.  You have to go out and find them yourself.  The fact that there are special places like these to find the ultimate gift is a holiday miracle in itself.  So not only do you show that you had put a lot of thought and effort in this but an amazing adventure to share with your friends.  Search on treasure hunters!  And don't forget to look at your own local community centers.  They tend to have some lovely markets there as well.