Camping with Horses at Little Elbow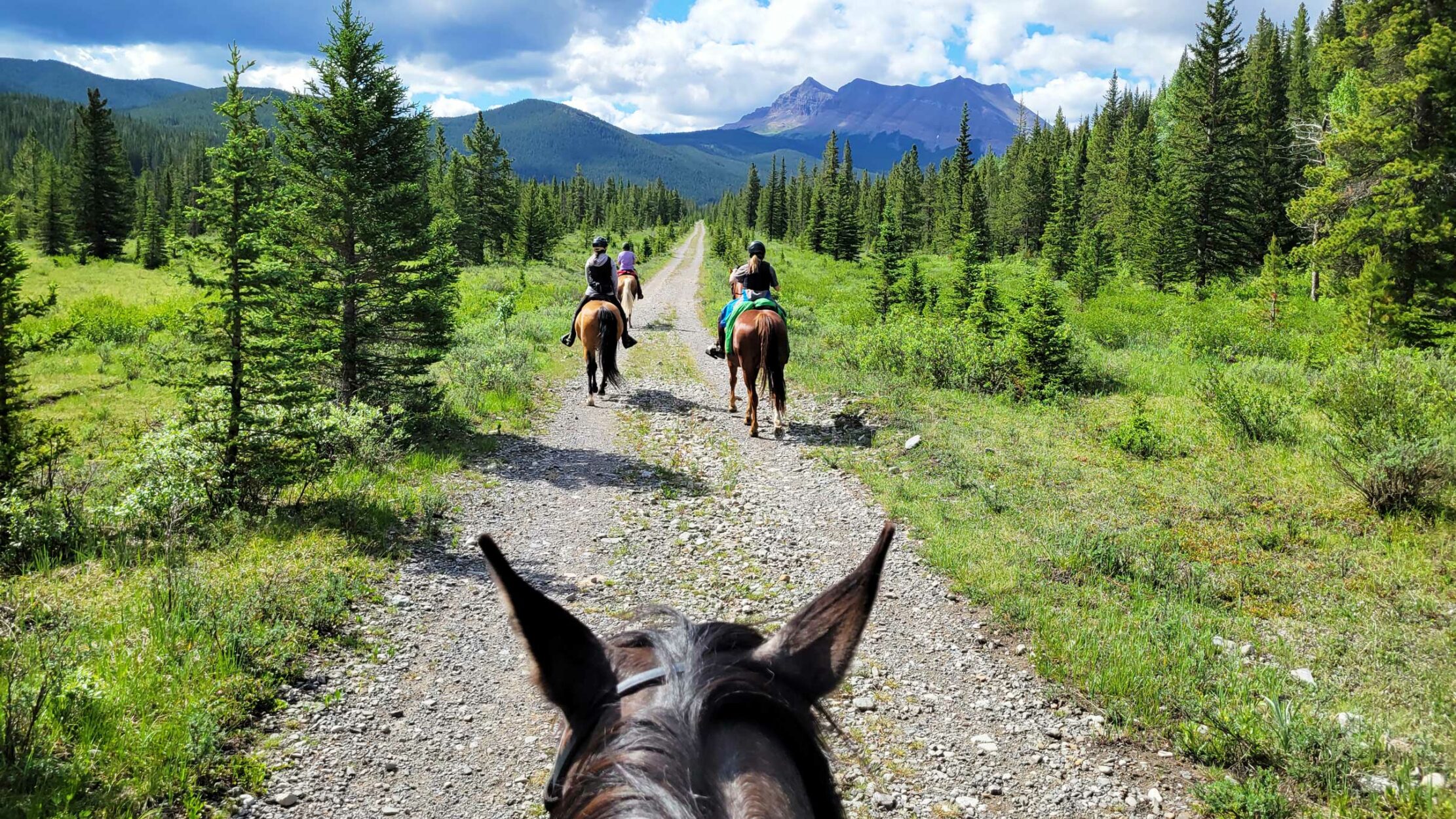 What do you get when you combine seven women with big trucks, some hardy horses, and a campground with limitless trails? You get one helluva weekend of horse camping in K-Country.
The Little Elbow Equestrian Campground is about 30 km west of Bragg Creek on Highway 66. It features 45 treed sites, hitching rails, tie stalls, and a loading ramp. Each campsite reservation includes two stalls, but more can be purchased for a reasonable rate of $7 per night. The tie stalls are roomy for what they are: my 15.3 hand stocky quarter horse fit comfortably, and some of the smaller horses in our crew were able to turn around in the stalls if they weren't tied.
The campsites near the corrals were well treed, and were capable of hosting large campers or trailers with living quarters. There were typically two campsites for each clearing, so you could potentially be camping next to another crew. We booked two campsites to accommodate all of us, which meant we had lots of space for socializing and campfires in the evenings. There was also space to park trucks and trailers near the stalls, so not everything needed to be in the campsite. Overall, the campground wasn't that busy, but June is known to be rainy in this area, and the weekend had a rather wet forecast, so that may have kept some people at home.
The trails leaving the campground are what bring people to the area, and there is plenty for every level of ambition. Rides like Powderface Ridge are steep with great rewards and provide a full, 8-hour day in the saddle, while the ride to the Big Elbow backcountry campsite is about 20 km with great views and hitching rails at the campsite, which makes a fantastic lunch spot. It took us about 5 hours to complete this day ride at a leisurely pace with lots of stops along the river. Alberta Parks has online trail maps for users to plan their route, but a backcountry map is always a great idea since the area doesn't have cell service.
Some things to keep in mind when camping with your horses in this area: the trails are rocky and steep, so you'll want to make sure your horse is fit enough to enjoy the trails and has appropriate foot protection. The footing isn't suitable for barefoot horses, and if you're a fan of boots, make sure they can handle river crossings and steep, muddy sections of trail. There is plenty of wildlife in the area, including wild horses. While we didn't see any wild horses on our excursions, we did see evidence of them on the trails we were using and heard stories of other riders finding them on their adventures. A water pump is next to the tie stalls, but not all our horses were keen to drink the water. We were able to water them from the river, but it made for some extra work on our part.
You'll need to bring your own buckets for watering horses. The mangers are roomy enough to fit a water bucket and a well-stocked hay net, or loose hay, to keep your horse content for the night. While the tie stalls are covered, they're open sided so the air quality is decent. We had quite the thunderstorm with heavy rain one night, and our horses were bone dry the next morning. They didn't seem fussed by the loud weather. In terms of your own camping comfort, we recommend this article to make sure you're prepared.
Overall, camping with the horses at the Little Elbow Equestrian Campground made for a fun weekend, and it was a great learning experience for some of the horses who were first-timers to this type of setup. Now that we know our greener horses can handle multiple nights in tie stalls and long days under saddle, we're already planning our next excursion. Here's to a great summer spent exploring the beauty this area has to offer.
Happy Trails!