An Unforgettable Day Trip to Blackshale Suspension Bridge from Calgary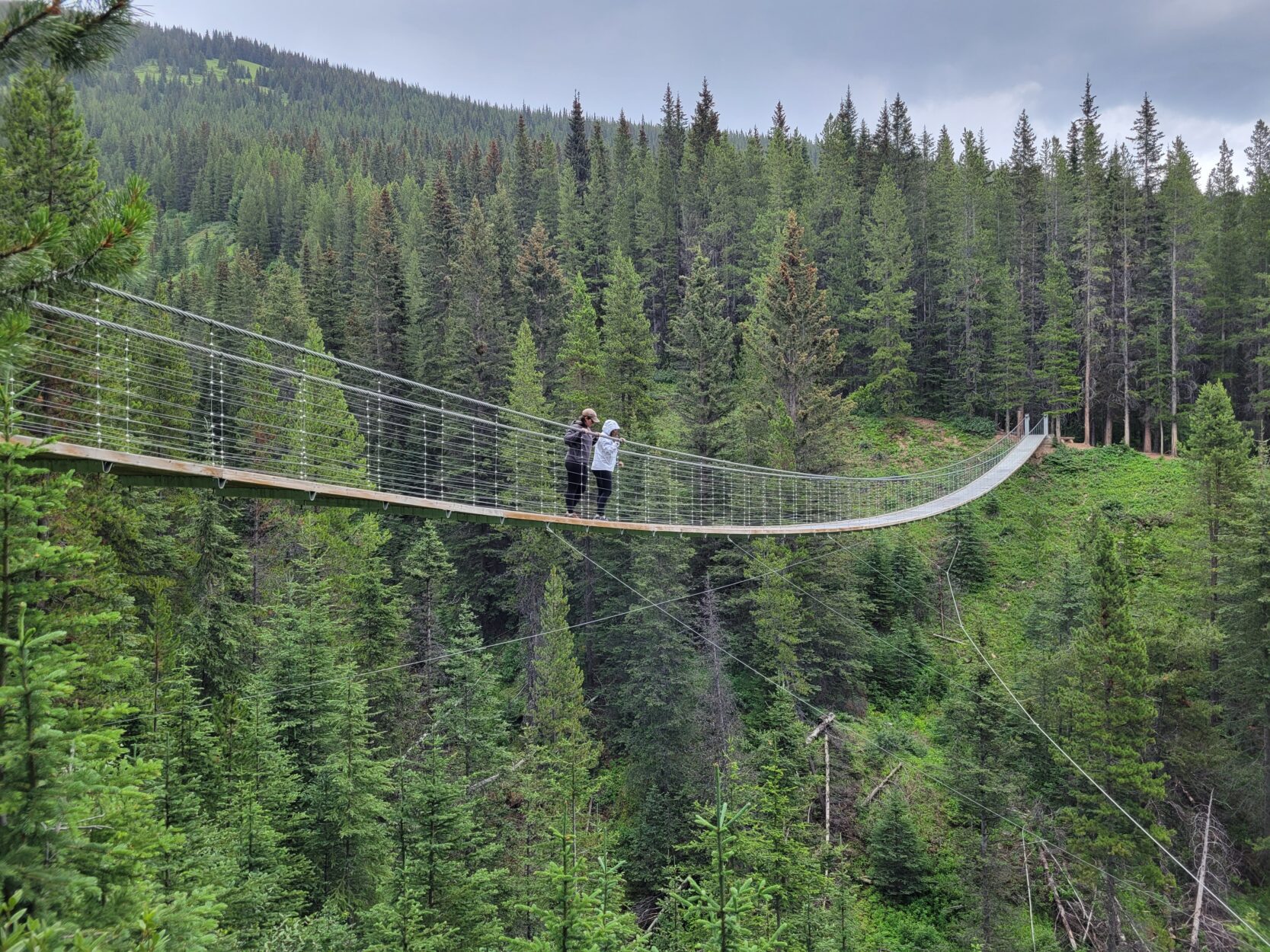 Kate Barker
Nestled in the heart of Kananaskis Country is the Blackshale Suspension Bridge, an ideal day trip from Calgary that offers adventure, serenity, and a beautiful showcase of nature. Our journey began on a cloudy Monday morning. The approximately two-hour drive from Calgary to the Black Prince Day Use Area trailhead was filled with anticipation and scenic views. Often less crowded, choosing a Monday proved to be an ideal day for a peaceful hike.
The day was a showcase of Alberta's varied weather. The cool, cloudy morning gave way to a quick shower, followed by a hail storm. These minor weather fluctuations added to the adventure and allowed us to experience the landscape. Eventually, the clouds parted, revealing the warm sunlight that glistened through the surrounding trees.
Upon reaching the Black Prince Day Use Area, we were presented with two paths leading to the bridge. We opted for the official trail, a roughly 3 km route that wound through a beautiful pine forest. The trail, wide and with a gently rolling terrain, was perfect for a relaxed hike and would be suitable for families and individuals alike. The second unofficial route is a quicker, steeper 1 km loop route to the bridge. The trailhead is unmarked but can be found along the Smith Dorian highway. However, it's worth noting that parking is at your own risk as it doesn't have a designated parking area.
Less than an hour into our hike, the spectacular Blackshale Suspension Bridge appeared. It arched majestically over the valley, the Blackshale Creek flowing quietly below. Even under the changing skies, the sight was nothing short of remarkable.
After exploring the bridge, you can turn around or keep adventuring forward. On our return, we took our time, appreciating the smell of the forest after the rain, the sound of the running creek, and the sight of the impressive mountains.
Here are a few key details about the trip:
- Drive Time: About 2 hours from Calgary.
- Hiking Time: Reaching the bridge from the parking lot takes approximately 50 minutes and a bit less time coming back.
- Difficulty: The hike is manageable, with well-marked trails and gently rising and falling terrain.
- Safety: Since you're in bear territory, bear spray is essential. Also, given this trail's lack of cell service, a satellite communication device could come in handy.
- Photos: The bridge offers stunning photographic opportunities. For a unique shot, cross to the right a bit before the bridge and capture mountain ranges in your frame.
Despite unexpected showers and a brief hailstorm, the Blackshale Suspension Bridge day trip from Calgary was a wonderful experience. With the right mindset and preparation, you're bound to have a memorable trip, rain, hail, or shine.