15 Free Things to Do with Kids in Calgary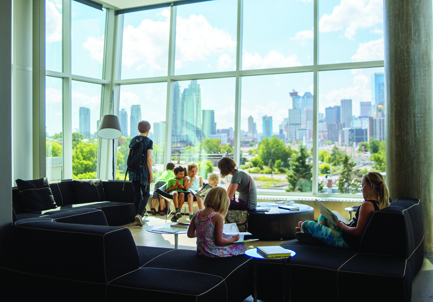 Inside Esker Foundation. Photograph by Elyse Bouvier
MAKE ART AT ESKER FOUNDATION
Esker Foundation is a contemporary art gallery located in Inglewood. General admission is free, and they have a reference library with kid's books to help explore the ideas and themes in each exhibition. They also offer several free public programs throughout the year. Take your little ones to hands-on art classes, treat the whole family to master classes, or bring the stroller/baby carrier for art tours and more.
LOOK AT GLENBOW'S EXHIBITS ON FREE FIRST THURSDAYS
Visit Glenbow from 5 - 9 pm on the first Thursday of every month for free admission. There are interactive exhibits kids will love to play with – you can see what the inside of a tipi looks like, or feel the crystals lined in a giant mineral.
DROP BY A LIBRARY FOR STORYTIME
Each Calgary Public Library location features drop-in storytime for the whole family. You can also experience storytime with Engine 23, a real, decommissioned fire truck that lives at the Central Library.
GET BEHIND THE WHEEL OF A POLICE CRUISER
YouthLink Calgary Police Interpretive Centre is a free learning centre with interactive stations, displays featuring the history of the Calgary Police Service and lots of photo opportunities. Investigate your own fingerprints using real-world identification technology, dress up in police uniforms and more. They're open to the public on Fridays and Saturdays.
TOUR DOWNTOWN'S FREE SPACES
Take a stroll through Chinatown and admire the architecture and colourful buildings, and step inside the Chinese Cultural Centre to view the stunning ceiling modeled after the Temple of Heaven in Beijing – it has 561 dragons and 40 phoenixes painted into it. Visit St. Patrick's Island, which has swings, slides and climbing structures, and plenty of areas to spread out a blanket and have a picnic. Wander Devonian Gardens, an indoor garden oasis at The CORE Shopping Centre. Especially inviting during Calgary's long winters, kids can monkey around on the playground, or clamber up the climbing wall.
GO BIRD WATCHING  
The Inglewood Bird Sanctuary and Nature Centre is a natural environment that spans 36 hectares. It's a marvellous place to walk and spot migratory birds, and you can stop by the Nature Centre to see their exhibits and learn more about the local wildlife.
PLAY DISC GOLF
Disc golf is free to play in many of Calgary's courses as long as you have a disc. A new disc golf park opened in Calgary in June 2018 - the David Richardson Memorial Disc Golf Park is a 27-acre, 18-hole course.
BIKE AROUND TOWN
Pedal your way across the city by bike. Pre-plan your route around Calgary online, with routes to major attractions like the Calgary Zoo and Inglewood Bird Sanctuary.
EXPLORE SPRUCE MEADOWS
Spruce Meadows show jumping and equestrian facility is open year-round, and visitors are welcome to walk the beautiful grounds, visit the stables, watch trainers exercise their horses, play in the playground or picnic on the grounds. In December and January, you can drive through the grounds to see the dazzling Christmas lights – a quarter of a million lights blanket the trees and provide an unforgettable holiday sight. Admission and parking is free except for during tournaments and the Christmas market.
MAKE A SPLASH 
When it's summer in the city, it's the perfect time to take advantage of Calgary's free wading pools, spray parks and outdoor pools.
SKATE AT SHAW MILLENNIUM PARK
Practice your skateboard or in-line skating moves at Canada's largest outdoor free skate park, or visit one of the volleyball courts.
TRY GEOCACHING
Known as the world's largest treasure hunt, geocaching is a great way to explore parks and greenspaces in Calgary. All you need is a GPS device or a geocaching app to hunt for small boxes, called geocaches, in natural areas. A geocache box is usually filled with little treasures like toys, magnets or stickers, providing an opportunity to "trade" goodies – you're welcome take something and leave something behind.
TOBOGGAN ON ONE OF CALGARY'S HILLS
Experience the rush of sledding on one of Calgary's hills in the winter. Bonus - carrying your toboggan up and down the hill multiple times is great exercise.
GLIDE ON AN OUTDOOR RINK
The City of Calgary maintains seven outdoor skating rinks in the winter. Olympic Plaza, a downtown rink built for the 1988 Olympic Winter Games, is the only refrigerated outdoor ice surface in Calgary and provides a dazzling view of downtown.
STOP AND PLAY 
No tyke can be expected to stare at furniture for hours, which is why Ikea offers supervised play for a full hour. If you have time to play too, Market Mall offers 30 minutes of play with supervision in their Monkey Around indoor playground, there's a play area in Southcentre Mall, and a Little Fossil Fun Zone in CrossIron Mills that's dinosuar-themed.