Ethical Shopping at Calgary's Consignment Stores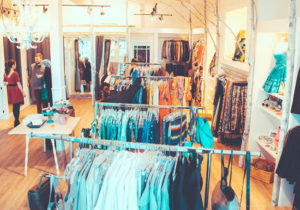 Courtesy Peacock Boutique
At the Copenhagen Fashion Summit earlier this year, designer Stella McCartney delivered a decisive call to action to the fashion community. "We have to have this conversation and we have to be held accountable," she noted in an online statement, in reference to finding viable solutions to sustainability in the business of fashion. Enter consignment clothing. Calgary has a plethora of ethical shopping consignment stores, each with their own focus and range of items - and they're waiting to be discovered for those who have yet to make a foray into this market.
Why shop consignment?
"Because consignment hasn't been a household name for so many years, people think that it's thrift or charity shop," says Michelle Morigeau, the owner of Peacock Boutique. "(At Peacock) we're very picky — we give 40 per cent of the selling price to the consigner, we curate and clean everything, and we only take things that are in season and trendy." Morigeau took over Peacock from her mother, who purchased the store in the late '80s when there were few other consignment shops in the city. She revamped it and "brought it into the 21st century" which turned out to be a success; Peacock opened its second location in early 2016.
Consignment shop owners are also very aware of how their businesses are playing into the sustainable fashion conversation. Morigeau says that, if in the past shopping consignment was a bit of a faux pas, it has now become trendy. "It's completely different — a lot of the reason for that is because people are thinking more ethically and recycling."
This discussion, while currently gaining traction, is not new. For years, proponents of sustainable and ethical fashion have been pushing back against fast fashion, with campaigners referencing everything from environmental threats to human endangerment — the Rana Plaza building collapse in Bangladesh in 2013 brought to light the horrific work conditions many labourers in the fashion supply chain endure.
Navigating 'sustainability'
Environmentally and morally conscious consumers are also pushing producers by demanding transparency in clothing sourcing and manufacturing, leading to varying levels of response by brands. Recently ASOS, the global online curated shop, has committed to dropping cashmere, silk, down and feathers from its entire platform, and has also announced that it will launch a sustainable fashion training program for its designers.
Despite steps forward, it is difficult to determine what brands mean when they use the words "sustainable" and "ethical" to market products. For example, a manufacturer could source recycled materials while still overlooking the conditions of workers. Transparency and traceability in all aspects of garment production are challenging for consumers to access, which is perhaps why the pressure to buy sustainable or ethical doesn't seem to pack a punch — the terms are often just too ambiguous.
High fashion from a renewable source
However, these complexities don't mean that efforts to be conscientious of your shopping habits should be abandoned. While how to recycle or ethically source and produce fabrics may for most of us seem out of reach, reusing clothing is not. Blake Rawlinson, co-owner of Vespucci, emphasizes that, due to the high standard of curating at her luxury consignment shop, "a client doesn't need to compromise when shopping consignment." Just because a garment may be pre-owned, it does not mean "that it is in some way lesser quality or dated."
On the contrary, Rawlinson explains that ethical shopping consignment may be the best way for people to access "high fashion" pieces that they might not otherwise be able to afford. "There are quite a few pieces that come into our hands that are a part of fashionhistory," she says. "I really enjoy when we find a piece from a designer and are able to find the exact runway show or editorial that it appeared in." Rawlinson also notices a clear shift in consumer interest towards ethical fashion.
"Consignment has always been around, but with people's consciousness moving towards a more sustainable future, it has definitely made us leaders in the ethical fashion conversation. The biggest change, I'd say, would be people becoming more knowledgeable about where their clothes come from, and where fast fashion goes once it doesn't sell end of season." Whatever your budget or your style, you can rest assured that shopping consignment is not only a sustainable and ethical option, but a fashionable choice — in more ways than one.
Consignment stores in the city:
PEACOCK BOUTIQUE
145 Kensington Cres NW, 1415 - 11 St SW
VESPUCCI
8244 Elbow Dr SW
CURATED CONSIGNMENT
1502 - 14 St SW
THRIFT COUTURE
1314B - 17 Ave SW
SALVEDGE BOUTIQUE
1002 Macleod Tr SE; 113, 1013 - 17 Ave
SW
DANIELLE'S CONSIGNMENT
908 -17 Ave SW
VELOUR CLOTHING EXCHANGE
200, 1022 - 17 Ave SW
TREND FASHIONS
120 - 10 St NW
EXPRESSIONS CONSIGNMENT
202, 12100 Macleod Tr SE
KINDRED THRIFT (online only)
CLOTHING BAR BOUTIQUE
1911 - 34 Ave SW
ARMADIO BY DELIA
488, 10816 Macleod Tr
WILDER'S CONSIGNMENT HOUSE
7702 Elbow Dr SW
FEISTY CONSIGNMENT
2100 4 St SW #12