Chef Spotlight: Jenny Kang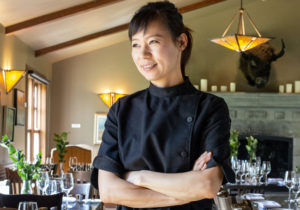 Image Courtesy of Great Events Group
Eating farm-to-plate isn't new for Jenny Kang — it was always a way of life. Kang, the executive chef of Bow Valley Ranche Restaurant, grew up on a farm in South Korea where her parents taught her the value of growing and picking your own food. "That's how I grew up, so I know how different the flavour is," Kang says.
Kang brings that passion for fresh and local food to Bow Valley Ranche, which has its own garden. The restaurant is in a historical ranch house situated in a valley in Fish Creek Provincial Park. Every summer they bring fresh herbs they've grown into the kitchen. She's committed to sourcing all their vegetables, grains and meats from local producers.
Kang's cuisine is inspired by traditional Italian and French recipes, thanks to her background of working in several of Calgary's fine dining establishments like Teatro and Catch, with Asian flavouring mixed in. "I have all the traditional and classic recipes and try to incorporate modern styles," Kang says. She points to a popular item on the current menu — the Bouvry farm elk tartar with horseradish cream, cured yolk, truffle powder and parmesan.
One of her favourite parts of the job is developing new menus, from the Sunday Night Chef's Table to menus for the multiple events they host in the building. Seeing a customer's happiness after trying one of her meals keeps her energized and motivated in a demanding industry. "I love to cook for people. It makes me happy when they enjoy my food. I hope they taste the freshness of what we're using."
Kang invites patrons to walk the grounds, which offer an escape from the hustle and bustle of the city. She's always happy to share her passion for cooking farm-to-plate with other people. "I have the background so it's easy for me, but people are thinking, 'That's not easy,' but they can do it at home too. I can show them our garden."