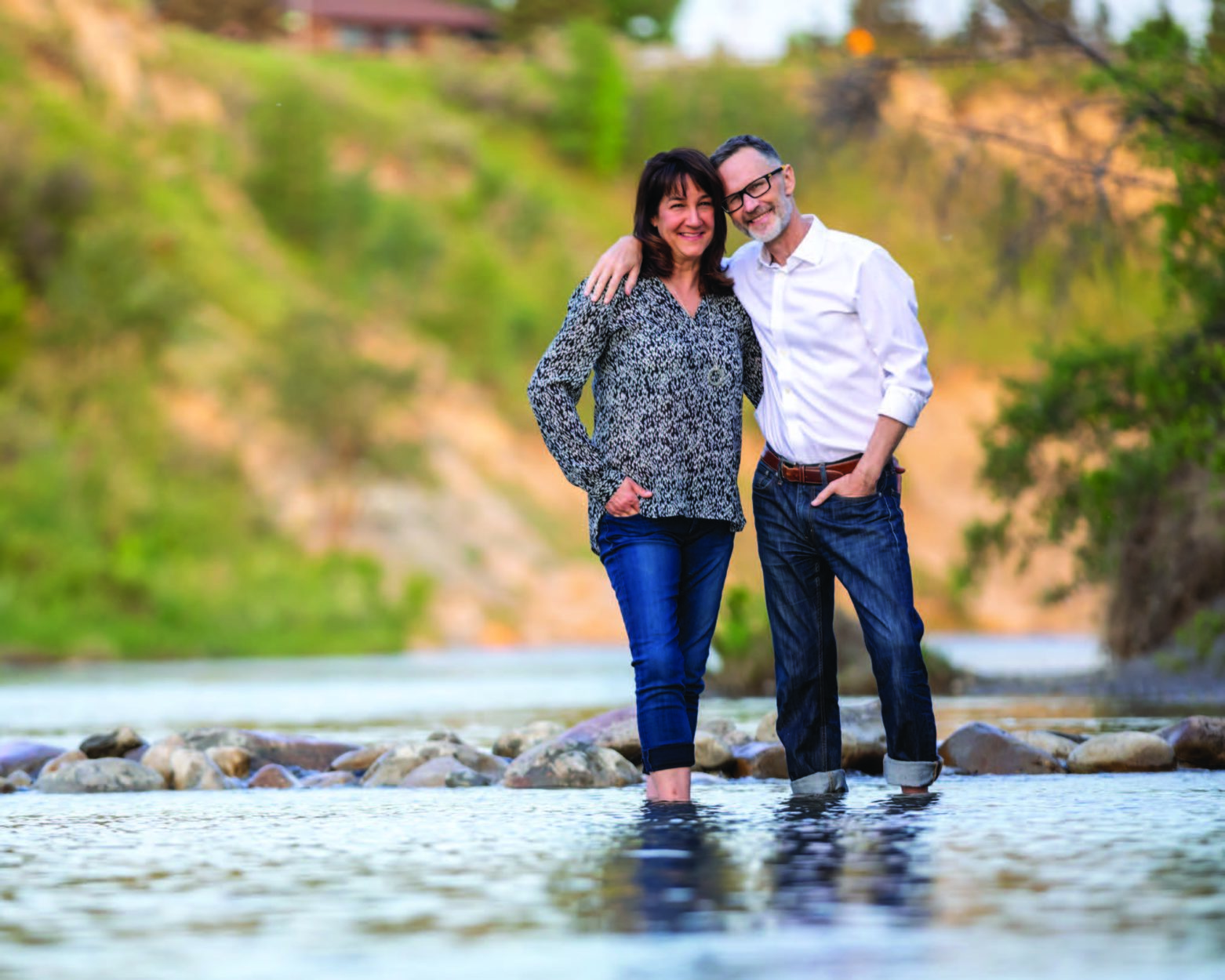 Jim and Tracey Button are well known faces around Calgary. Tracey started out designing apparel and textiles before travelling the world and raising their two children. She is a champion of art education in schools and works in non-profit, emphasizing the critical importance of the arts. Jim worked in financial planning and marketing before co-founding Village Brewery — among other ventures — and has received many accolades for his community involvement, entrepreneurship and philanthropy. Several years ago, Jim was diagnosed with stage four terminal cancer and while utilizing the psychosocial support services offered to them, the Buttons learned that there is a gap in the research of paediatric psychosocial oncology. They are working to raise $5-million for an endorsed research chair to help close that gap and support young cancer survivors and their families. Visit netcommunity.ucalgary.ca/buttonfamily to learn more about their efforts.
Do you have a favourite neighbourhood in Calgary? Elboya! However we are a bit biased because that is were we live. We have access to beautiful parks and the Elbow River valley where we walk almost daily.
What's your favourite restaurant and what do you order when you go there? For lunch you can't beat the vegetable forward menu at Ten Foot Henry, we love the beet and citrus salad. For dinner celebrations we love Bridgette Bar. The food is exceptional and we love the sharing plate opportunity that the bar presents. The menu is ever changing — they always have a dish that focuses on Alberta beef which is always a favourite.
Where's the best place to relax and have a drink? Craft beer tasting rooms and pubs have been growing exponentially here in Calgary and there are over now 40 different styles to choose from. As Jim is a co-founder of Village Brewery, we have a proclivity to evenings in their taproom watching bands or seeing the latest art exhibitions that rotate quarterly.
Which annual festival do you look forward to every year? Hands down the Circle Festival, which was also co-founded by Jim. It is excellent for families by day and for music festival lovers by night. It has something for everyone, circus school for the kids, food trucks, live music, dancers, craft beer stations and it even has a wiener dog parade and races.
Where's the best place in Calgary for live entertainment? Jim really enjoys the gritty Ironwood Music Hall for live concerts, and Tracey is a fan of the Bella Concert Hall at Mount Royal University, where you can see local talent like Michael Bernard Fitzgerald.
Where are your favourite places to shop? Inglewood has so many great places. Plant is one of Tracey's favourite places for gifts, Stash is a great store for knitters and creative types, Recess Shop is full of fun things for home and office. Jim can be found at one of the many craft brewery locations in the neighbourhood or getting a haircut at Notorious Hair Salon while Tracey is shopping.
Describe your essential tour of Calgary for out-of-towners. We pick our guests up and do a drive through downtown focusing on stunning landmarks like the Peace Bridge, The Bow building with the Wonderland sculpture in front, the Studio Bell National Music Centre, the new Central Library. We then park in Inglewood and do the river walk to the East Village Simmons Building. Depending on the time of day we either pick up a beautiful coffee at Phil & Sebastian or enjoy lunch at Sidewalk Citizen Bakery or dinner at Charbar. If time allows we had over to St. Patrick's Island to walk off our indulgences.
What is surprising or unexpected about Calgary? We have an amazingly creative community doing really cool things. Things like the Esker Foundation, which is an internationally recognized contemporary art gallery that offers free programming. Rumble House, which holds a Wednesday weekly art rumble and auction — artists meet and paint for a set period of time auctioning off the pieces at the end. For those into theatre, the Dave Kelly Live show is an old style variety show that promotes Calgarians who are doing amazing things. Athletes, musicians, scientists — the talent pool runs deep!