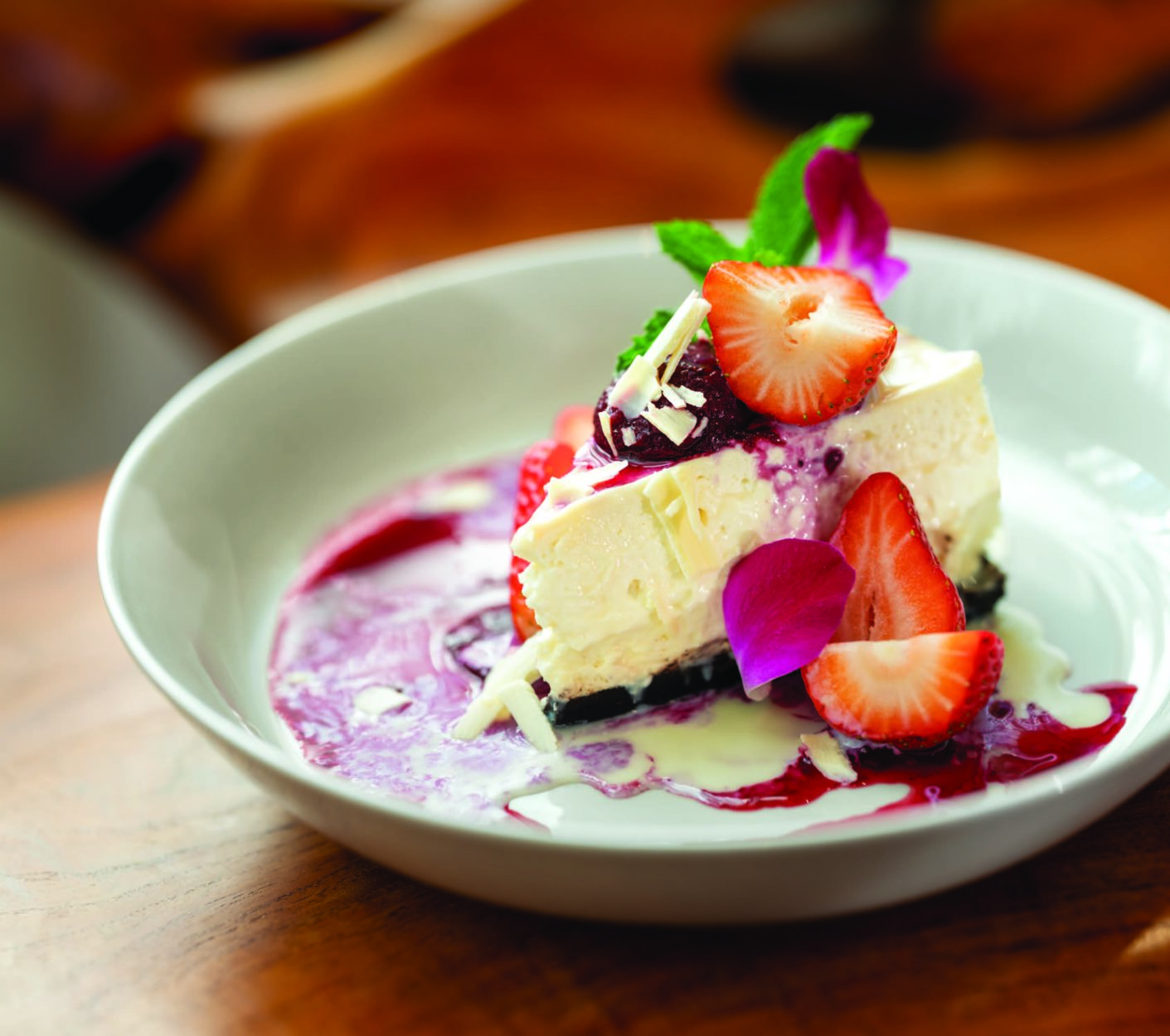 Cheesecake from Alloy
Fine dining restaurants are usually recognized for their expertly prepared savoury entrees, professional service and well-curated wine lists. But when you treat yourself to a luxurious night out, it's nice to finish things off with something sweet. Calgary's best restaurants know that the last bite a guest takes is just as important as the first, and they have created signature desserts that make a lasting impression.
ALLOY
For 12 years, Alloy has been serving exquisite modern cuisine marked by creative Mediterranean, Latin and Asian influences. When it comes to desserts, Alloy regularly rotates selections, but always has one decadent dessert, something traditional, something adventurous, and a gluten and dairy free selection. (As well as a crème brulee, because who doesn't love crème brulee?) The "traditional" option is often a no-bake cheesecake, topped with flavours and ingredients that reflect the bounty of the season.
220 - 42 Ave SE, Calgary, 403-287-9255, alloydining.com
ROUGE RESTAURANT
As one of Calgary's premier fine dining restaurants, Rouge has built its reputation on seasonal food that often incorporates ingredients from the restaurant's vast backyard garden. The kitchen takes a "simple and familiar" approach to its desserts, giving classic concoctions a special Rouge treatment. Cap off a meal of French-inspired Canadiana cuisine with a panna cotta or housemade ice cream that make the most of the flavours of the season.
1240 - 8 Ave SE, Calgary, 403-531-2767, rougecalgary.com
TEATRO RISTORANTE
Over the course of its 25 years Teatro's menu has fluctuated considerably, but if there's one thing that represents the heart of this grand restaurant, it's the Mirella Tiramisu. The recipe for this traditional Italian dessert has been passed along owner Dario Berloni's family for generations. The tiramisu is so important to Teatro that it's the only dish that appears on the menu of every one of the restaurant group's six properties. In keeping with Teatro's overall culinary philosophy, each tiramisu, including the ladyfingers, is made from scratch.
200 - 8 Ave SE, Calgary, 403-290-1012, teatro.ca
RIVER CAFÉ
Setting the bar for ultra-seasonal and ultra-local fine dining in Calgary, for almost 30 years, River Café has been many Calgarians' top choice for a special brunch or a high-end night out. The restaurant's desserts are just as carefully created and beautifully plated as the savoury fare. Sweet creations include Maranon Chocolate Panna Cotta made with single-bean chocolate sourced from Edmonton's Jacek Chocolate, which is paired with a chocolate oat gelato and marshmallow for a classy take on s'mores.
25 Prince's Island Park, Calgary, 403-261-7670, river-cafe.com
HAWTHORN DINING ROOM & BAR
The newly re-imagined restaurant in the Fairmont Palliser is all about decidedly modern twists on fine dining classics. The dining room's dessert menu is meant to evoke feelings of comfort, while still offering refined techniques. The Cinnamon Toast Crepe Cake has become an instant classic — the mile-high mille crepe cake is essentially a stack of paper-thin crepes sandwiched together with a creamy filling. This version was created by the Palliser's Executive Chef and Food and Beverage Manager Eraj Jayawickreme, who was inspired by his favourite childhood breakfast cereal and Saturday morning cartoons.
133 - 9 Ave SW, Calgary, 403-260-1219, hawthorndiningroom.ca
HY'S STEAKHOUSE & COCKTAIL BAR
There are few places that offer the complete retro luxury that Hy's brings with its steaks, tableside service, and glamorous décor. The famed steakhouse's dessert selections are best paired with a cognac or digestif — with many choices on the extensive drinks menu. The tried and true classic here is Hy's Bananas Foster, a time-honoured mélange of ripe bananas, butter, brown sugar and orange juice that is flambéd tableside with dark rum. There's no better way to simultaneously take in dinner and a show.
At The Core: 8 Ave & 3 St, Calgary, 403-663-3363, hyssteakhouse.com
MODERN STEAK
Modern Steak's concept is all about challenging typical steakhouse conventions, but when it comes to dessert, the restaurant's signature dish is delightfully old school. The Baked Alaska comes to the table alight, but once you blow out the flames you'll find a core of local Fiasco salted caramel gelato on top of a vanilla sponge, all covered in fluffy Italian meringue. The whole thing sits in a bed of smooth lemon curd, giving this classic a decidedly modern zing.
107 - 10A St NW, Calgary, 403-670-6873, modernsteak.ca