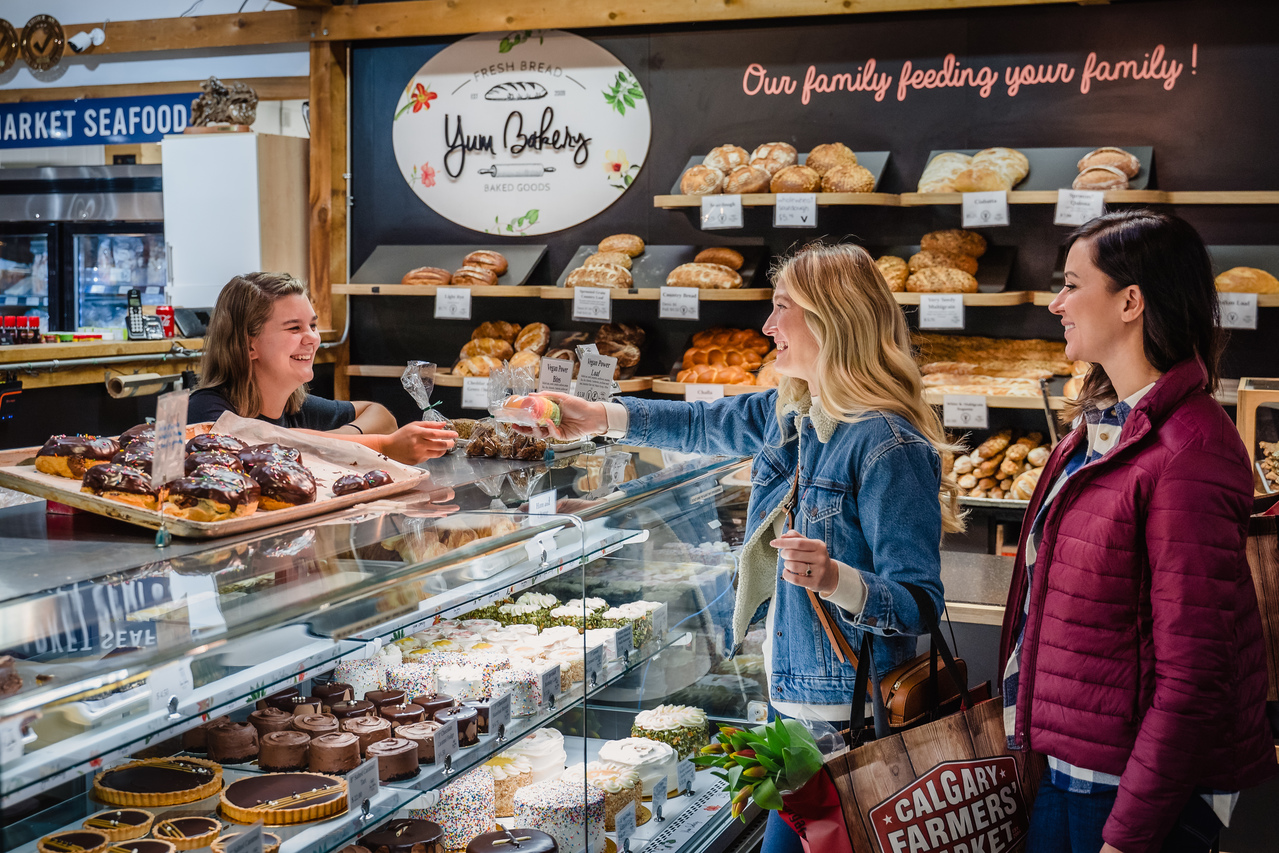 Travel Alberta / Davey Lieske
The sun is still hot from the summer, however the leaves on the trees are beginning to turn.  As you watch these leaves go from a glorious green to a multitude of reds and yellows, you realize what is coming.  Harvest time is just around the corner.  You look up and see the clear blue sky, thinking about what this next season is going to bring.  Things like pumpkin spice, s'mores, and hot apple cider come to mind.
"Where is a good place to get all of this?"  You ask yourself.  "But I want to make sure that I support local businesses too."
The answers lie in now seven wonderful locations.  Spread out in our fair city are various markets where local artisans, farmers, and many talented individuals are selling assorted wares to the public. What better way to welcome autumn than celebrating our local marketplaces?  Here's what our city offers.
Calgary Farmers' Market
Now open in two locations; one on Blackfoot Trail in the southeast and the newest one near Canada Olympic Park in the northwest.  This extraordinary market has been around since 2004 and has brought our community together.  There is nothing like good local food and carefully crafted goods to turn strangers into friends.  A true Calgarian staple worth visiting.  
Avenida Food Hall and Fresh Market
The ultimate place for all foodies.  Family-operated and has only the best products from over 50 local vendors.  A place where even the pickiest eater can find just what they are looking for.  If you have food allergies or restrictions, there are plenty options and essentials.  With the help of these friendly vendors you will prepare a meal that will elevate you to from home cook to top chef.
Farmers & Makers Market at cSPACE
In the heart of Marda Loop is a small but happening outdoor marketplace that occurs rain or shine.  If you are looking for live music, food trucks, and family-friendly events, there is no better place than cSpace.  Every Saturday from 10AM-2PM, distillers, wineries, artisans, and food-makers of all kinds will be there to serve you.
Hillhurst Sunnyside Farmers' Market
Every Wednesday afternoon from 3-7PM or Saturday from 10AM-2PM, all year round, this sweet little market in Kensington is open to all.  Doing their part to support local lands and communities, this is a market with a heart.  Go visit them and try out some of their home-made goodies. You won't be sorry.
Granary Road
Granary Road is not just a farmers' market but a learning centre and all-around fun place to be.  Not only do you get fresh farm food but you can also learn how it is made and what the future of farming is going to look like.  With eclectic dishes to try, an active learning park, and unique events, you will have a great adventure to tell all of your friends and family.  Or better yet, have them join you.
Although we are sad to see summer go, it's nice to know that there are things in the next season to look forward to.  Not just the foods but holidays like Thanksgiving and Halloween.  One of the best things about Calgary is we know how to make any time of year fun.  So bring on the fall, we are ready for it!