Revival of Summer Calgary Traditions …and the making of new ones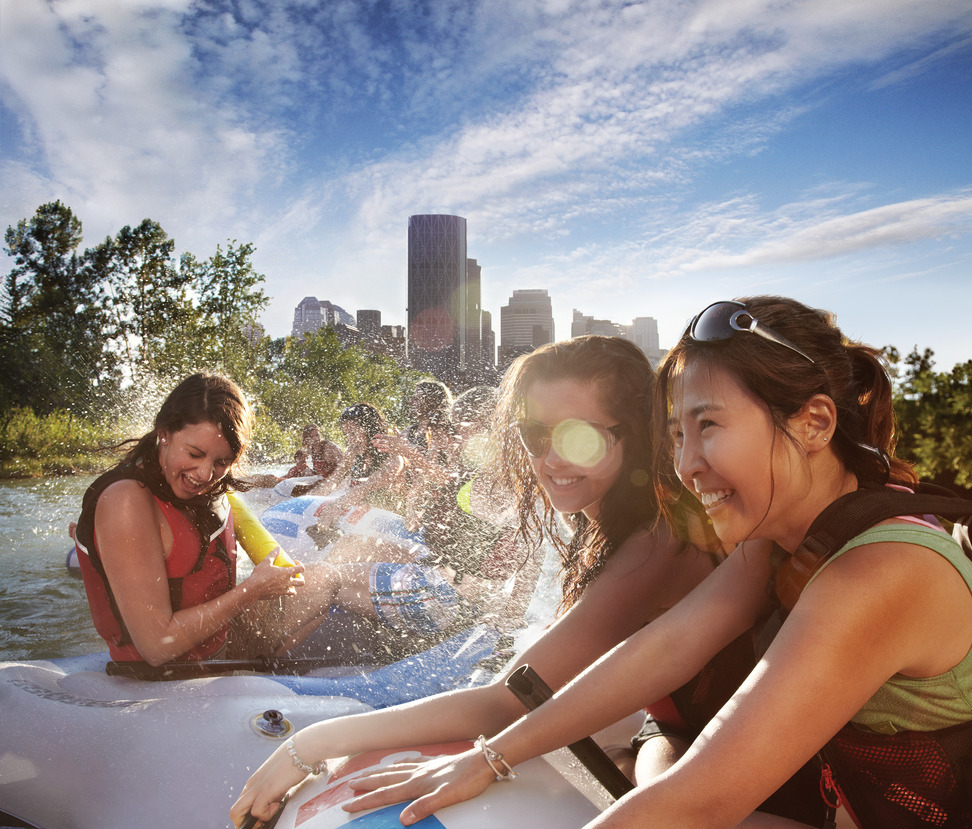 Travel Alberta/George Simhoni
Making summertime memories can be about traditions, which so many look forward to year after year. In Calgary, there are many well-known ones, like 'rafting the Bow,' 'Shakespeare in the Park,' 'strolling 4th Street or 17th Avenue,' 'Folkfest'….but, there are some new and different events this summer to check out also.
CALGARY PARKS
Calgary is a mecca of parks and pathways that literally connects all four quadrants of the city. There's definitely a path and park for everyone, from the superbly fit to those who prefer a slow quiet stroll. The city is host to a broad selection of community and public parks, and it also hosts the nation's only provincial park within the confines of the city limits: Fish Creek Park. With nearly 40km of trails to explore, this park has something for everyone who loves the outdoors. Not sure where to begin? Here is a comprehensive listing of all the paths under the care of the City of Calgary.
A new park sparking interest, is Dale Hodges Park, in the northwest. This natural environment park is adjacent to Bowmont Park and was once a gravel pit. It is now a recreational and ecological destination. With a wetland and a storm water pond, lookouts and a boardwalk, everyone who loves to walk, hike and bike has a new place to explore.
The city recently relaxed one of its bylaws to allow park users to consume alcohol at select picnic tables, starting in June of 2021 to September 7. This pilot project does not permit consumption at all of the city's parks, but there are quite a few that allow it, and you must book the tables in advance.
RIVER RAFTING
Summertime in Calgary, especially on those hot lazy summer days, is all about rafting on The Bow. For many this is a finely tuned art and undoubtedly a long-standing Calgary tradition. It's ideal to drop a car at the point of exit, or book a shuttle service available from Lazy Day Raft Rentals. If you've seen the Bow River winding and rolling through the city, you know there are currents and rapids in places (like Harvie Passage), so it's really important to wear the required life jackets, do not consumer alcohol and mind the other rafters around you. Be very aware that the Bow River (which flows right from the nearby Rockies) is much more turbulent west of the city limits and should be approached with great caution. For families with smaller children, it is recommended that you float the Elbow River, which is a tributary, but much less flowy. Note that there are some times where low water levels may require a mini portage on the Elbow.
There are some local favourite entry-exit locations and lots of opinions on which are the best. You can create your own adventure with reference to the access locations published by the City.
ONE-STOP SPORTS VENUE and CALGARY LANDMARK
Winsport – formerly Calgary Olympic Park – is home to many Calgary, Alberta and Canadian activities. Mostly famous for hosting the 88 Olympics, COP (as it was once called) has evolved into a newer world-class destination. Year round, Winsport is open to the public, private teams, and events of nearly every sport, in both summer and winter. They even have excellent sports camps for kids big and small.
Here are a few summer activities to check out:
o   Skating
SOMETHING A LITTLE DIFFERENT
If you've never tried a motorized two-wheel scooter, for personal transport, this might just be your push. If you don't even know what one is, then you might want to keep reading. River Valley Adventures are for the crazy as well as the timid. Tours can be booked online and cost around $60.
If you've got a group of adults who love to drink beer and burn off the carbs while they chug, an urban pedal tour is the perfect activity for your clan. With an official and sober driver-guide behind the wheel, the pedaling is done by the drinkers. A set number of local breweries are pre-determined and about 30 minutes at each location is allotted to try some locally-crafted malts, with reduced prices for peddlers.
On the topic of adult fun, Cobb's Adventure Park has scheduled some pretty fun events between now and October 2. They have a long list of Saturday fun and theme nights for adults only, including a beer festival, wing night, drag night, 80s Deja Vu and even a pumpkin party with baby kangaroos.