An Eco-Friendly Guide to Summer in the City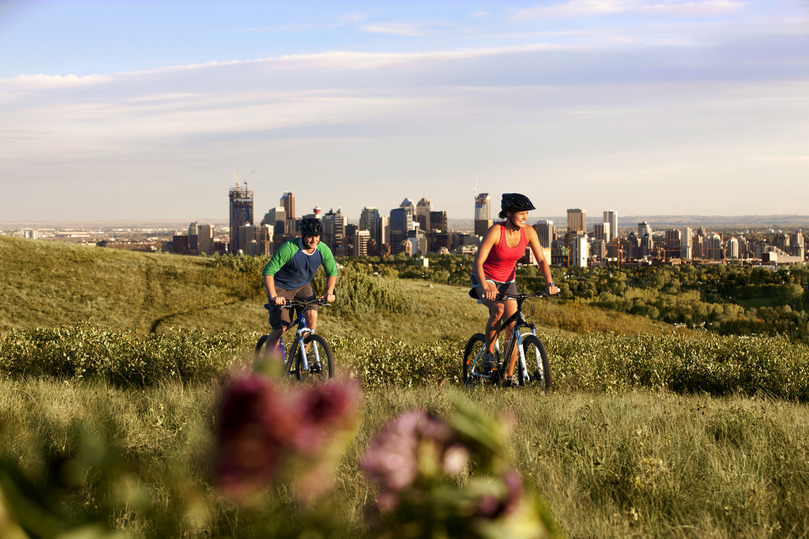 Travel Alberta
Here in Calgary, we pride ourselves on being one of the greenest cities in the country, and there are lots of ways to participate in this lifestyle during your summer vacation. Whether you're interested in food, shopping, or simply spending time outside, we have you covered on all the city's greatest eco-friendly experiences to try out this summer.
Getting Around
Calgary has several environmentally conscious ways to easily get around the city. Our transit system can take you almost everywhere and is simple to navigate using the Calgary Transit app. On top of this, Calgary has lots of accessible bike paths around the city, even downtown, along with plenty of bike rentals to choose from. For an even more fun experience, check out Bird or Neuron e-scooters, both of which have permits in the city. Now that you have your environmentally friendly transportation all set for your summer vacation, you will need some places to go. Here are our recommendations.
Eco-Friendly Eats
Now, we all know trying new and local foods is one of the most important parts about travelling to a new place. Luckily, Calgary has multiple dining options that are not only eco-friendly, but also delicious! The Coup is a local restaurant with an entirely vegetarian menu. They serve an abundance of vegan options as well. They pride themselves on using as many local, ethical, and organic ingredients as possible in their food and cocktails. Through doing this, they not only provide a vibrant, eco-friendly menu for everyone to enjoy, but they also support local farmers and food suppliers.
Some other local dining options include The Allium, a plant-based restaurant, and V Burger, which serves fast food that is entirely plant-based. To get an even more hands-on experience with Calgary's local food scene, check out the Calgary Farmers' Market. There, you will be surrounded with an abundance of organic, ethically produced food from more than 75 different vendors. Even more exciting, they are opening a second location in Greenwich this year – something you will not want to miss!
Sustainable Shopping
Calgary is known for its unpredictable weather, which means you will need some rainy-day activities in your back pocket. Shopping is a simple, yet fun option that can be done in an eco-friendly way.
The growing popularity of thrift shopping in Calgary means the city has more than enough second-hand stores to keep you occupied for a whole day. Find staples like Value Village and Goodwill, or try local favourites like 17th Ave Thrift, Thriftopia, Thrift Couture, Fair's Fair Books, and many more. Not only will shopping in these places save you money, but you will also be helping the environment through buying something that otherwise could have ended up in a landfill.
Aside from second-hand stores, Calgary also has some eco-friendly businesses for you to add to your list, including Growing Co., a boutique that sells organic, ethically made clothing items and toys for children. The Apothecary in Inglewood is also known for their sustainability efforts through selling zero waste goods. Stop by Milk Jar to check out the factory that brings their plant-based and phthalate-free fragrance candles to life. The options for a rainy-day, sustainable shopping spree are endless!
Exploring the Outdoors
Although our weather can be temperamental, Calgary is known to get particularly hot during the summer months. This means that you'll want to spend as much time as possible outside.  Calgary's bike trails are more than just an easy way to get around. Calgary River Wheels is a bike rental shop along the Bow River that doubles as a tour guide, showing you what places to check out in the city. Getting there by bike is not only fun, but environmentally conscious as well!
Here in Calgary, we are lucky to not only have amazing city skyline views, but also a beautiful river that crosses the city. Walking, biking, scootering, or even rollerblading alongside the Bow River will leave you breathless, and not just from the physical activity. Rotary Park is a perfect picnicking spot that is easily accessible and has both city and river views. The park rises above the street below, making for a beautiful view of the sunset – very romantic! North Glenmore Park is another great picnic spot, with forested areas as well as an accessible, rocky beach along the Elbow River.
No matter the weather, or type of activity you are looking for, there are endless options to enjoy your summer vacation in Calgary in an environmentally conscious way!